Outside of gamer communities, AR and VR came to many people's attention when the Oculus Rift headset creators generated $2.5 million of orders through Kickstarter crowdfunding in 2012. Four years later, Facebook bought the business for $2 billion. There are several projections of how far the estimated global market value of $22.9 billion near the end of 2019 will grow. Statista reckons $300 billion by the close of 2024. Evolve Business Intelligence reckons it will be a market worth $530 billion a year by 2027. This article has many augmented reality and virtual reality examples that demonstrate the growing importance of this technology in key business sectors.
There are also numerous other market size predictions if you run your own search. However, with the big tech firms of Apple, Microsoft, Facebook and Alphabet/Google all vying to develop the market's "next big thing," who can really tell what the pace of developments and rate of user uptake will be?
What we do know is that using AR and VR is making rapid ground in many B2B and B2C business sectors. Here is a round up of seven key sectors. A separate article covers recent developments in AR/VR technology.
Entertainment
Health lockdowns prevented us attending events, performances and displays, and performers and venues were starved of income. A report by the trade body UK Music says work for one in three UK musicians, other performers and related technicians was wiped out. Adversity became an opportunity to try new things. A notable one was to create a live-performance music festival in virtual reality inside a Minecraft game. UK band Massive Attack were special guests. On the first attempt the servers crashed when the audience exceeded 100,000, so it was rescheduled and ran more successfully three weeks later. A second event is in the pipeline, even though actual live performances are again allowed in most countries.
Keeping this in mind, Coldplay have announced a forthcoming world tour. They aim to halve the carbon footprint of their last one through initiatives like stages built using reusable bamboo and recycled steel, solar panels and kinetic floor tiles installed to generate sustainable power from the crowds of fan's footsteps, and a ban on single-use plastic items. Surely they could consider incorporating some VR performances in the tour schedule?
AR/VR technology also wowed a broader UK tv audience in October 2020. Saturday evening viewers of a top rating pro-celebrity dance contest were astonished to see dancers in the studio performing alongside an elephant. Among the technical challenges for it to be convincing, the dancers had to know where it was so they would not dance through it, and as the elephant moved around the lights had to fall on it from the same angles as on the dancers.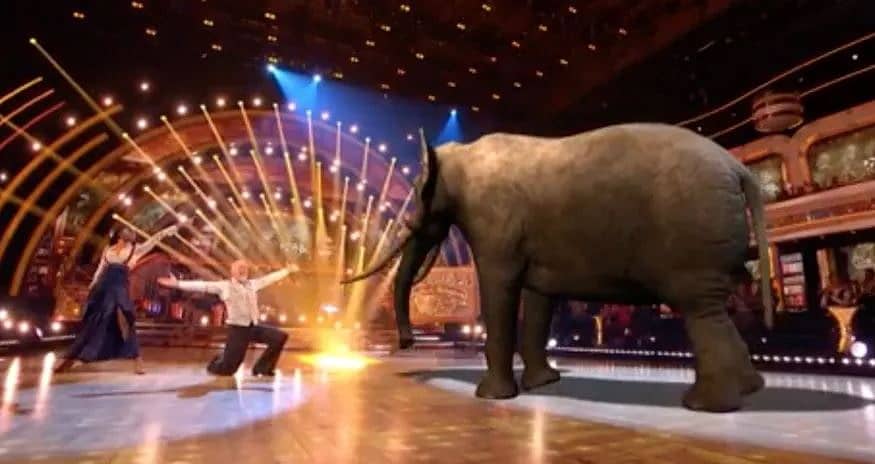 Museums and galleries the world over are also developing their use of augmented reality. Whether it is used to provide additional information alongside artefacts in situ, or for virtual displays to fill otherwise empty spaces, the tech enables ground breaking innovation. Animal skeletons can be viewed in motion and covered with flesh and fur, or scales or feathers: the Smithsonian Institution in Washington D.C. has been providing this facility this since 2017. Extinct creatures can seem brought back to life, which began in June 2021 at the Muséum National d'Histoire Naturelle in Paris. AR can place museum visitors in historic situations – such as the first manned landing on the moon at NASA's Kennedy Space Center in Florida.
AR can also be used for people to experience artworks without having to visit a gallery. London's National Gallery began placing QR codes on busy streets. Activated by a mobile phone app, people can see works of art appear in their phone images of street scenes.
VR in Education
At a time when distance and remote learning are becoming more popular, and while enforced social distancing made it more often the default rather than an elected choice, virtual reality is becoming more prominent in education spaces.
VR really allows students to really feel as though they are immersed in an alternative environment. It enables them to see things that they otherwise wouldn't be able to. Just like the museum visitors it is possible to view and be involved with historical events or geographical scenes from the past, making learning all the more memorable. A study by the UK's University of Warwick shows that students remember study materials better when using VR headsets as opposed to textbooks and videos.
However, a common student criticism of edtech, as opposed to in-person learning, is the lack of social interaction with other students. There are now VR tools available that simulate a real classroom environment and allow synchronous learning amongst other students. Frame is one example.
Students, and academics, at the University of Glasgow in Scotland will soon be able to explore even further through XR (extended reality) experiences at a new campus facility. Students will be able to access AR software on their mobile phones and VR headsets to reinvigorate the learning process. Engineering students will be able to visualise and interact with the inner workings of machinery in a virtual space, while medical students can gain new insight into how organs function. Students at the university's partner sites at the Singapore Institute of Technology and the University of Electronic Science and Technology in China (UESTC) will also gain access to the XR system.
Providing work experience
A role of education is to prepare students for careers, and to provide employers with suitable candidate employees. West AlabamaWorks recruits, trains and empowers highly-skilled workforces driven by business and industry needs in West Alabama, USA. Working with a VR company during lockdown, it has created a virtual reality program that introduces students to careers that are high in demand and that they would otherwise not be able to experience.
COVID-19 protocols have made it very difficult for student healthcare workers to access hospitals and training schools for hands-on training. VR is helping to transform the way the next generation of health care providers are learning, and the signs are that the new methods will stay in place even when conditions return to near normal.
OssoVR is another medical training application of VR that educates medical practitioners about varied conditions and trains them to deal with them. This one also provides healthcare providers with an assessment of each doctor or surgeon's proficiency.
AR/VR supporting risk management
VR training is particularly valuable for tasks or situations that are inherently dangerous or expensive – or both.
A medtech provider has created the first virtual reality platform specifically designed for orthopaedic surgeons. It converts patient CT scans, a form of internal imaging, into 3D models. This gives surgeons a comprehensive view of a patient's anatomy in an interactive VR environment where they can simulate surgery before they do it for real.
In the construction and property development sector, creating a realistic digital twin of a construction project means plans can be rigorously examined at the building design stage. Improvements made at this stage of building  design and construction significantly minimise costly and time-consuming alterations further down the line. A leading UK construction company developed a health and safety VR experience for construction workers on a smart motorway (freeway) project to improve site workers' understanding of safe working zones and practices.
British army soldiers have been swapping combat helmets for head-mounted displays to explore the training possibilities offered by VR. This includes a mortar weapon system that blends live and virtual training to allow personnel to experience the effects of laying down deadly support fire in a safe environment. For further realism, an integrated 360-degree moving floor assesses realistic movement in virtual training. It enables soldiers to train without the need of a harness or specialist footwear.
NASA is preparing to explore Mars with manned flights. Communication delays between Earth and orbiting flights are nearly unnoticeable, but at distances up to almost 1,000 times further away, delays between Earth and a Mars flight could be a problem. The T2 Augmented Reality (T2AR) project demonstrates how astronauts can inspect and maintain equipment without assistance from ground teams. NASA intends to first use this technology during further lunar exploration.
Personal health and wellbeing
There are a multitude of medical, remedial wellness providers using VR and AR. To start, virtual reality can be used effectively to augment and enhance traditional treatment methods, such as cognitive behavioural therapy and exposure therapy, to treat anxiety and depression. 
Platforms such BehaVR can place users in beautiful immersive environments that they cannot experience in real life, making for a deeper connection to their inner self. 
TRIPP uses interactive immersive VR to enhance meditation in a gamified manner with twelve badges to earn. 'Trippers' need an Oculus or Sony PSVR headset and a WiFi connection with a recommended speed exceeding 20Mbps. New 5G-powered AR glasses extend the treatment to create experiences that change the way people perceive and interact with their actual personal environment. It provides psychedelic-inspired visuals, breathing exercises and games. Ultimately it leads to exploring ways to drive physical connections with other people in their community.
Psious is another therapy platform that uses virtual reality for improving psychology and mental health.
Limbix uses VR to deliver mental health treatment specifically to adolescents.
Virtuleap is a health and educational startup based in Lisbon, Portugal, with UK and US offices. Its VR workouts and game playing stimulate cognitive response and coordination of senses and movement. They believe VR brain training can add value to any healthy lifestyle.
Neuro Rehab VR provides VR therapy to medical patients recovering from occurrences such as accidents, sports injuries and strokes, plus people with dementia. Neuroplasticity is the brain's ability to form new connections after an injury. Research shows that VR therapy stimulates the growth of new brain cells around a damaged area for patients to regain function and mobility. 
In an example of AR enhancing standard medical CT imaging, it is being used to more successfully combat cancer. Imaging maps can be overlaid on a patient's body, and when surgeons put on augmented reality goggles they can see all of the patient's internal anatomy. They can go through all of the layers in the body and refine plans for the procedure before they make an incision.
U.S.-based XRHealth claims to be the first company to combine online therapy and VR for treating patients' chronic conditions without them having to travel anywhere. Therapists are able to take patients through individual exercise programs on a one-to-one basis, giving real time encouragement and receiving feedback. In addition to pain management they can also provide speech therapy, cognitive training, and treat depression, stress, anxiety and ADHD.
Marketplaces
During the pandemic lockdowns, VR was invaluable to keep the real estate business moving as usual. With VR, buyers can immediately transport themselves into a space to see the finishes, the scale of the place, and even the views without having to go anywhere.
IKEA's augmented reality app shows how new household furnishings and furniture would look in these new homes.
The Hunt is an online marketplace for NFT music, fashion and entertainment, built on the Ethereum blockchain. It is designed to streamline purchases or sales through incorporating augmented reality to display and experience the 'goods' in a more realistic manner. The NFTs can be brought into the physical world as products or through distinctive, exceptional extended reality (XR) visual experiences. Major investors include Sysorex, a leading U.S. based Ethereum mining and technologies company.
The technology delivers personal experiences in the Fashion and Beauty sectors. ASOS's See My Fit app gives customers the chance to personalise their online shopping experience by viewing augmented reality versions of clothing worn by avatars that match their own body shapes. L'Oreal's Makeup Genius allows users to explore different make-up styles. 
VR meeting and event platforms
Office shutdowns and working from home during the Covid pandemic caused mass take up of video conferencing for work meetings, personal contact with family and friends, and entertainment through "live" performances. It has created a springboard that providers of VR meeting technology hope to benefit from.
MeetinVR, based in Copenhagen, Denmark, combines the flexibility of online meetings with the interactivity of in-person meetings. Their system enables people to get together in fully customizable virtual workspaces where they can talk and interact. Users feel as if they are sharing the same space by sharing and reviewing media together (360 content, images, videos) and will soon have access to tools to enhance creative collaboration. This will make it easier to brainstorm, sketch and work on prototype ideas together.
Arthur allows people to meet in fully customizable rooms and locations with access to an array of tools to get the most from VR meetings. Major global clients, such as PwC, KPMG and Monster use Arthur for both internal purposes and client meetings and workshops. Arthur has found meetings in VR are particularly beneficial when clients require lots of creativity that stems from collaborative and real time efforts. VR is even good for coffee breaks!
VRtuoso operates out of the US, UK and Italy. It claims to have created a truly scalable VR platform for enterprises, and has over one million immersive business users. Its 5G connections provide secure, reliable, jitter free VR video and image feeds.
To close, this link goes to a helpful collection of 30 VR meeting and event providers.