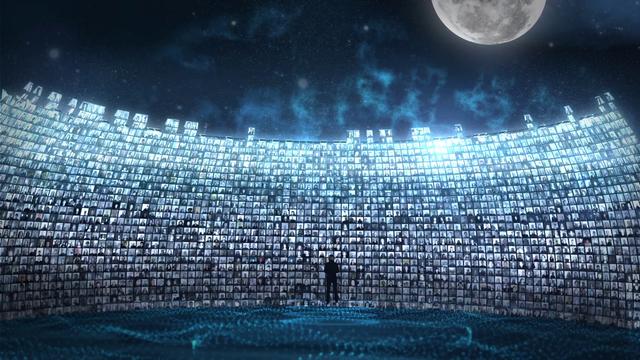 Everyday we come across examples that demonstrate the power of crowds. It is evident that crowd-cooperation comes naturally to the human race and this is a potential that we have only just begun to experience. What happens when crowds co-innovate? They are able to offer unique perspectives that come together in unexpected ways and create a picture never seen before or maybe even  a symphony!
This and more happened with Eric Whitacre's virtual choir. The hundreds of vocalists who responded to Whitacre's first online appeal had to follow his "silent" directing gestures and provide their own tinge to the performance. There was no audition process: every single video submitted made it into the final film.
The Virtual Choir began in May 2009 as a simple experiment in social media, when Britlin Losee – a fan of Eric's music – recorded a video of herself singing "Sleep" and shared it on YouTube. After watching the video, Eric responded by sending a call out to his online fans to purchase Polyphony's recording of "Sleep", record themselves singing along to it, and upload the result. Scott Haines generously volunteered to cut the video together.
Eric was so impressed by the result that he decided to push the concept to the next level by recording himself conducting "Lux Aurumque", and asked Virtual Choir members to sing along to that. Once again, Scott edited the audio and video and produced a beautiful result. Virtual Choir 1.0 received over 1 million hits in the first two months of its release.
Ever ambitious, for Virtual Choir 2.0 Eric called for 900 singers to record themselves singing "Sleep". At the final tally he received 2052 contributions from singers in 58 countries. Upon previewing the video at TED 2011, Eric (and the choir) received two standing ovations – testimony to the power of the Internet to connect people of all backgrounds and abilities and create something beautiful across time and space.
Virtual Choir 3, 'Water Night', received 3746 videos from 73 countries around the world and launched on April 2nd 2012 at a live event at Lincoln Center, webcast on Lincoln Center Website, and revealed online.
Watch Eric Whitacre's Virtual Choir 3, a global choir that came together on YouTube and the power of crowd-sourced creativity.
The Huffington post and TEDWeekends put the spotlight on crowd innovation, where Eric Nuzum added,
As TED Radio Hour looks at the phenomenon of the power of crowds, we discover that group innovation perhaps is less about the tools now at our disposal, and more about humanity's natural instincts to participate. A new wave of collaborative consumption is transforming society and rewriting the rules of engagement. What is the potential of 21st century collaboration? Why are we intuitively drawn to crowdsourcing? Is the rise of collaboration new or have we seen this before?
Not only did the crowd create a beautiful piece of music but this whole campaign revealed so many different aspects of crowd behavior that is complex to say the least-
The choir included singers from around the world diverse in geography, age, sex, expertise, political affiliation, economic status, but the end product could not be more beautiful and awe -inspiring. There goes our thinking that "birds of a feather flock together". Crowd innovation has proved again and again that diversity helps foster new ideas and thinking.
More so, the conductor, Eric Whitacre was blown away by the fact that the crowd was brought together by their simple action of singing in this choir.
..singers from all over the world connecting with each other. We've had collaborations between other composers and poets. We've had our first marriage engagement, a couple who met through the Virtual Choir and fell in love. And we have had our first death, Evangelyna Etienne, whose beautiful video I highlighted in my TEDTalk. She succumbed to cancer at the age of 22. There was an incredible outpouring of condolence for her and her family across the Virtual Choir websites, people who had never actually met her in person but had simply made music with her. Our virtual family celebrates together, we mourn together, but through it all we are singing, connecting with each other in a way that only singing allows.
Moreover, the virtual world spilled into  "real life" as well. People who met in the choir met with other particpants in their cities or nearby towns. Some even traveled great distances to meet each other in person.
It's strange when we meet 'IRL' for the first time, but it's impossible to deny: there was an intimacy, a shared energy between us all, a sense that we had done something significant together and were only now aware of its gravity and how deeply it had bound us together.
One word. Powerful.
Listen to the Power of Crowds on the TED Radio Hour to understand why we need to pay attention.