The Revolution Mosaic, was just released, in the App Store and is ready to crowdsource a mosaic.
"This year, 360,000 iPhone photos will come together to form one iconic image that will last forever in the Apps Store, on the Internet, and on posters around the world, symbolizing a generation connected through our phones."
I am sold — let the uploading of 360,000 photos begin! And as of this post 418 people have already uploaded photos to the empty white space that will eventually be the mosaic. I think that this is an awesome use of crowdsourcing — hundreds of thousands of people will be uploading their photos to build one massive photo.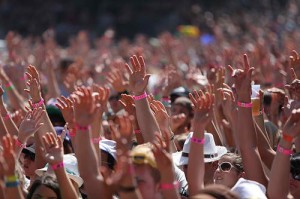 Revolution Mosaic's creator — Ian Tuason — is no stranger to the successful use of the crowd. The iPhone only app was funded through Kickstarter and was able to secure $2074 from 48 backers. The majority of the backers submitted $10 or less but Tuason did have a modest pledged goal.
Now while I am very excited to see the final product I am a bit disappointed at Revolution Mosaic.
According to The Next Web — your submissions are anonymous and you will get no credit for the submission. I think that is such a poor move by Revolution Mosaic — especially since they will be generating revenue from the crowdsourced mosaic.
My issue with projects such as Revolution Mosaic is not that they are generating revenue. My issue is that the individuals whom contributed to a crowdsourced project are not even being recognized for their contributions.
What are your thoughts on individuals receiving no compensation for a crowdsourced project?