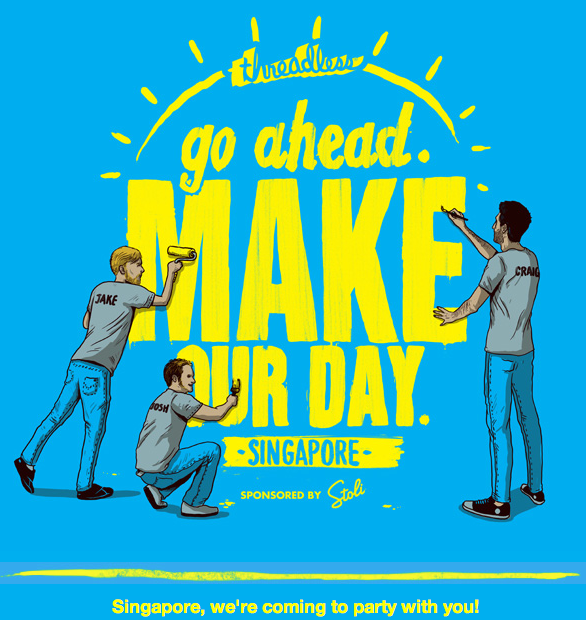 Threadless is coming to Singapore to party with you on Nov. 10!  Join Threadless founder Jake Nickell & Threadstaffers Josh & Craig for a few hours of artistic awesomeness. Meet the founder, check out local artists' work, show off some Threadless designs, rock out to sweet jams & see the unveiling of their brand new Threadless custom tee.
When: November 10, 2012
Where: Singapore City, Singapore
What: Threadless, 'Make Our Day' event
Cost: Free
Details: http://makeourday.eventbrite.com/#
Visit the event's Facebook page and see who is going!
Enjoy live art & music & Stoli drinks
Chill to some sweet tunes by a live DJ as you check out a gallery of local artists' work & watch art being created before your eyes. And grab a free drink from Stoli! Stoli will provide an open bar featuring their Premium and flavoured vodkas.  The cash bar will also be open for food.
Screen print your free custom Threadless tee
If you were one of the 3,000 folks who signed up for a Threadless custom tee, we're bringing 'em straight to you! Pick up your tee and have the chance to screen print it live at the event!
About Threadless
Threadless is an online community of artists and an e-commerce website based in Chicago, Illinois. In 2000, co-founders Jake Nickell and Jacob DeHart started the company with $1,000 of their own money. Threadless designs are created and chosen by an online community. The best designs are chosen every week and printed on clothing and other products, and sold worldwide through the online store and retail store in Chicago. Designers whose work is printed receive cash and Threadless gift cards. Each time a design is reprinted, the respective artist receives additional cash.
Today the Threadless community is 2 million+ strong and the company has awarded more than $7 million in cash and prizes to over a 1000 artists. Learn more from the video below.
http://www.youtube.com/watch?feature=player_embedded&v=f7sMFOfVeS8