Reward and U.S. equity crowdfunding lets entrepreneurs and company owners take orders for products or trade shares for investment funds. Who would have thought in 2000 that it would be possible for business owners to raise seven-figure sums from people they didn't know, or even have as a customer? The vital stepping stone before this began was the sometimes massive sums raised on reward crowdfunding platforms. Except early backers are unable to invest in the companies themselves, only acquire their often innovative products. Here are 10 top U.S. reward and equity crowdfunding platforms. This article was updated in September 2021.
Reward-based crowdfunding
Kickstarter is the world's largest reward crowdfunding platform. It was launched on April 28 2009 in New York as an alternative way to raise funding for performance arts projects and productions. Its model was to encouraging low value donations from a large group of people rather than a lot of money from a few individuals.
It quickly expanded to cover many other hobby, craft and product categories, and has raised almost $6.13bn through hosting almost 250,000 successful projects (the figures are updated daily by Kickstarter).
It has an "all or nothing" policy meaning projects that fail to reach their target don't receive any funding and the backers who made pledges don't pay anything. Successful projects pay a 5% commission plus up to 3% transaction charges.
Indiegogo actually launched first in January 2008 in San Francisco, again as an alternative way to raise funds for arts projects. Indiegogo also quickly grew to host projects in many different categories.
A significant difference is that Indiegogo allows projects to receive the money that's pledged even if they fail to reach target. When this happens their regular 5% commission rises to 9%, plus there are always transaction fees of approximately 3% on every project.
Since 1 January 2014 to 24 September 2021, Kickstarter has hosted more projects than Indiegogo: 397,426 vs 340,586 (as measured by crowdfundingcenter.com). Kickstarter projects also have a higher success rate – 37.7% compared to 13.1%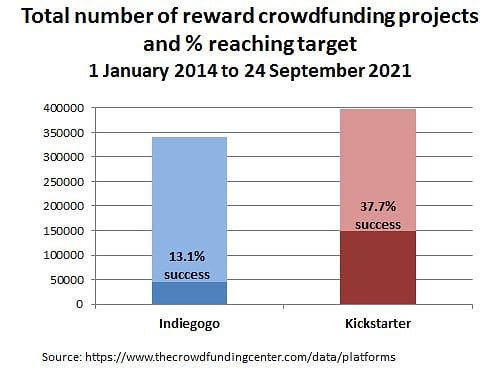 These two broad scale platforms dominate the US reward crowdfunding market and to have a point of difference the next largest platforms focus on specialist business sectors.
Patreon was founded in 2013 and is the world's largest crowdfunding site specifically for artists and creators.  It allows artists to obtain funding from their fans or patrons, on a recurring basis, or per work of art. It is popular with YouTube content creators, musicians, and webcomic artists. Patreon provides its users with three levels of service, for which it charges 5%, 8% or 12% of funds raised, plus a payment processing charge in each case. It is based in San Francisco.
Seed&Spark is an industry specific crowdfunding platform for the tv and film industry and is based in Los Angeles. It launched in December 2012 and within an overall aim to build an independent film community it provides filmmakers with a reward-based crowdfunding facility. By September 24 2021 the platform had raised $33.6m from 223,346 backers to help fund 2,673 new movies and shows. The platform claims an 80% success rate these days.
Projects must reach a minimum 80% of target to keep the money pledged by backers. With less than 80% projects risk taking on more than they can achieve, and possibly waste the backers' money. Seed&Spark charges a 5% fee on successful projects, though provides project backers with an opportunity to add this to their pledge. Many choose to do so and on average the crowdfunding projects themselves pay just under 2% of funds raised to the platform.
Equity crowdfunding
Title III of the JOBS Act which came in to effect in May 2016 extended online equity crowdfunding opportunities to Americans earning under $200,000 per year, though included limits on the amounts that could be invested. New platforms were launched to provide a full online equity crowdfunding facility to this wider market, whereas the previous ones serving higher net worth individuals ("accredited investors") required transactions to be made offline.
From March 2021 the U.S. Securities and Exchange Commission eased the regulations, and projects can now raise up to $5m. Limits on how much an unaccredited investor can pledge in a year remain in place, though are calculated in a different way which widens the pool of potential investors.
Data for the whole sector shows how the imact of the Covid pandemic reduced investment levels in 2019, though they bounced back strongly in 2020.
Reg CF capital raised by year by platform
Wefunder has been the U.S. equity crowdfunding market leader since it launched in 2012. The minimum investment size is $100, and Wefunder has created internal Investor Clubs in order that part-time investors in its network can access the wisdom and leadership of more experienced and professional investors and combine their investments with them on equal terms.
StartEngine, which is based in LA and launched in June 2015, is in the second place spot. Investors can start taking equity in a business with as little as $100. A strong performance in 2020 means Republic has taken third place after SeedInvest, which is based in New York City, achieved a lower Reg CF growth rate since 2018.  They switched emphasis to offer more Reg A+ opportunites, which are a type of offering allowing private companies to raise up to $50 Million from the public.
Microventures is in fifth place overall, though Netcapital raised more investment funding through Reg CF in 2020. Indiegogo was a partner in Microventures, though it dropped out in 2019. Who knows if the raised investment limit of $5m is making them think of a return to the equity sector?
If an equity crowdfunding project is unsuccessful there are no fees to pay. Successful ones are charged a percentage of the amount raised. Prior to equity crowdfunding activity, businesses usually also face legal fees to authenticate company documents. Investors may be charged a small fee, which is added to their investment figure. There may also be a 'carry over' arrangement whereby the platform will retain a small proportion of any profit made on an investment when it is liquidated.
We'd like to hear if you have you any experience of directly ordering products through reward crowdfunding, or investing in businesses through any of these U.S. equity crowdfunding platforms. Do you have any comments or insights you'd like to share?
This article was updated September 29th 2021
Don't miss our Crowdfunding Day on December 9, 2021
We have assembled a global team of top crowdfunding practitioners, enterprise leaders, and disruptive innovators who understand the fundamental shift towards the new crowd economy and powering breakthroughs together.
Running from 11 a.m. to 5 p.m. Central European Time time, three parts of the day will cover reward-based, equity, and property/real estate #crowdfunding at a convenient time for US attendees. A limited number of early tickets are free, then they move to €37.