The Internet has democratized the way we communicate and get new ideas. Read on for 10 indispensable open innovation platforms to help your organization effectively innovate with the crowd. Or click here for a January 2021 update. 
Organizations, including Fortune 500 companies, have become more collaborative to accelerate innovation in their internal and external channels. PWC, Unilever, Kimberly-Clark, Microsoft, American Airlines, and among others are on board. Why?
Because there's so much we can draw out from collective wisdom. Today your customers and communities are co-innovators and co-creators (and they have a million ways to help you nail down what you want to achieve). Oceanographer Edith Widder sums up what these companies are doing: "Exploration is the engine that drives innovation. Innovation drives economic growth. So, let's go exploring."
Whether it's your first time to read about crowdsourcing or have intermediate and advanced knowledge of how it works, these platforms will serve as your references and inspiration for you to implementing the concept in your business.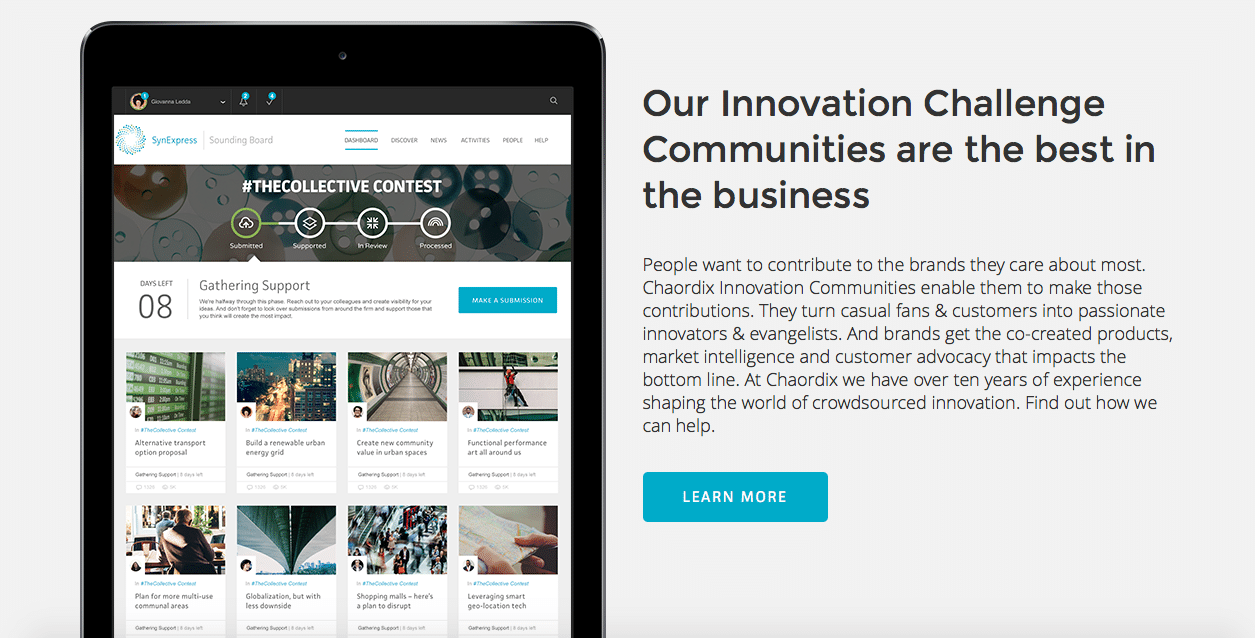 How it will help you: Chaordix specializes in community innovation and crowd activation. Chaordix uses crowdsourcing to help organizations gain sustained community engagement and predictive intelligence with their very own technology, Crowd Intelligence™. The process can be applied to deliver ideas, intelligence and solutions from the collective wisdom of participants of team insights programs, B2B forums, and product innovation communities.
Case Study: Chaordix partnered with American Airlines and formed a "highly-engaging market insights community" to understand the traveler's experience and journey via American Airlines High-Value Customer Forum; the platform has helped AA better understand the pros and cons of the travel experience and discovered new opportunity areas to improve their products and services.
Clients: American Airlines, VIA University College, Lego, HTC, IBM, and P&G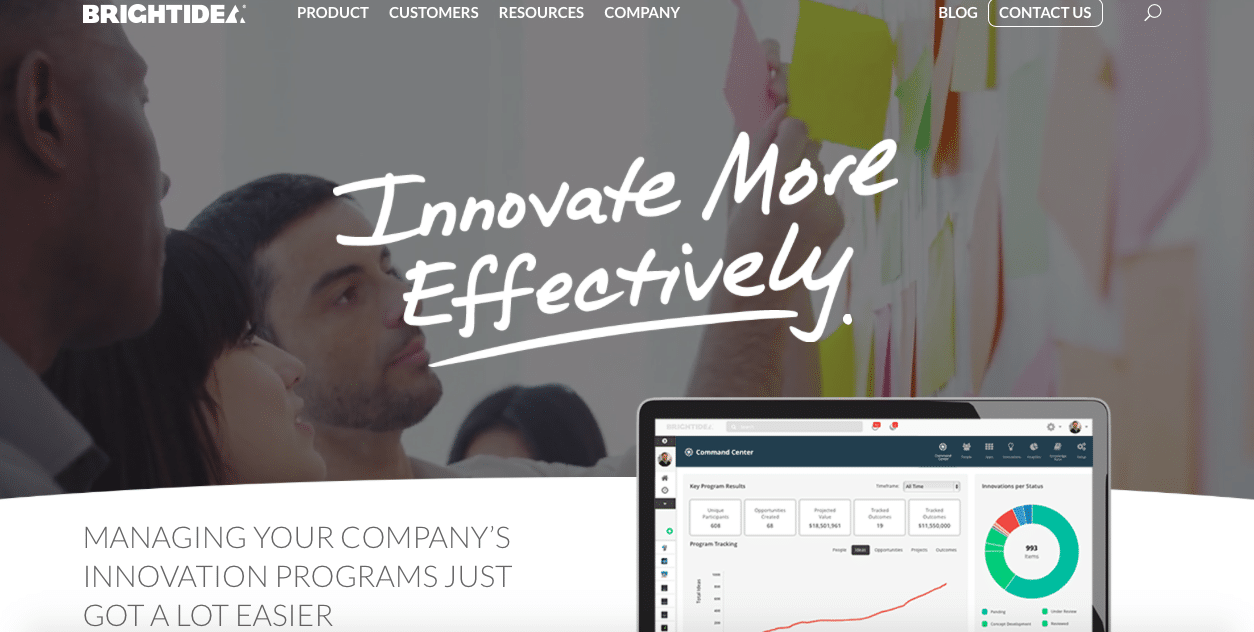 How it will help you: This innovation management software is a SaaS (software-as-a-service), accessible via a Web browser, for tracking innovation programs within organizations. It's a good arsenal for innovation program leaders who have advanced knowledge in harnessing open innovation within an organization where a record of all the activities, from hackathons to crowdsourcing to design competitions, are managed. The platform provides a complete suite from idea collection to the execution of the entire program to global customers.
Case Study: Brightidea was instrumental in Cisco's quest in identifying opportunities in the European market by helping them flesh out 400+ new ideas from more than 5,000 users to improve productivity and innovation, streamline idea review and development internally. In this case study, "the heart of this internal program was the i-Zone, an idea management portal powered by Brightidea that supports focused ideation, feedback, and voting in an online community." And the Holy Grail of this program was the 1 idea that had multi-million dollar revenue potential discovered from this platform.
Clients: GE, Bosch, Cathay Pacific, Merck, and Nielsen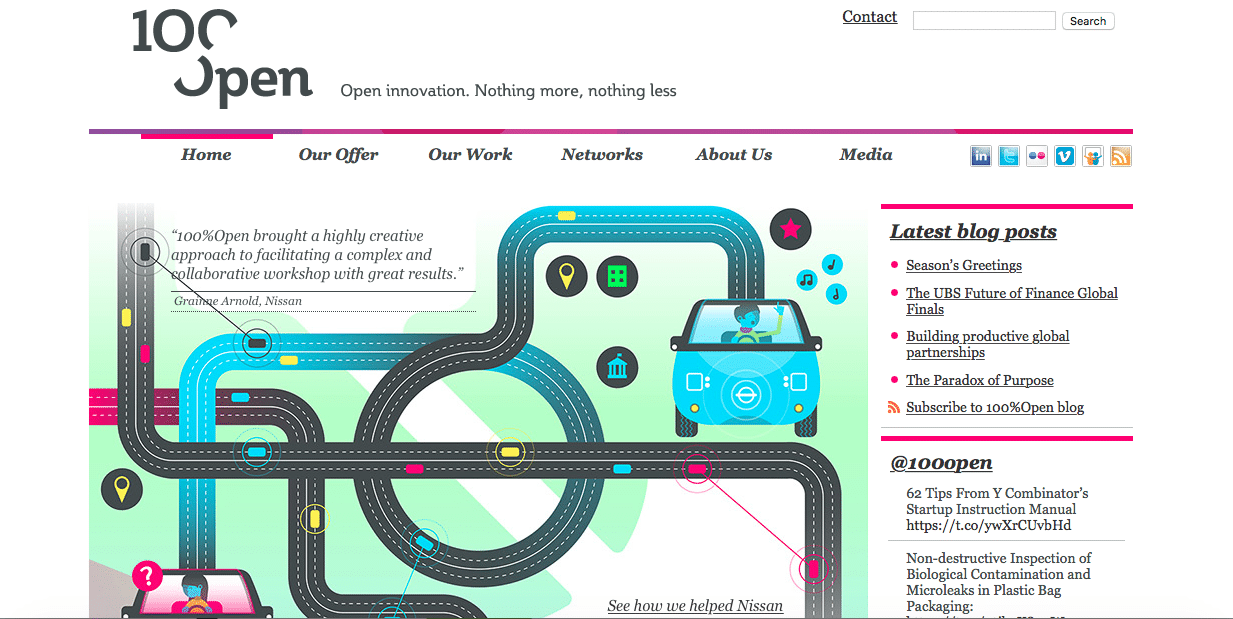 How it can help you: 100% Open is an open innovation platform servicing top-notch corporations. Clueless how to start? Their 100% Open Tool Kit provides a list of what you need for your company and suggests what you should use. For example, are you setting an innovation strategy? Then you'll be provided with the necessary tool you need to facilitate the process.
Case Study: 100% Open work with Procter & Gamble and spearheaded the innovation process to "identify and develop innovative ideas from small firms outside its own research labs." The objective was to bring new technologies to P&G so they used a methodology from British Design Innovation (BDI) and invited designers and universities to participate in the two open briefs on fabric care and wellness. The Open Innovation Challenge provided P&G a cost effective way to source fresh ideas and technologies and the company became much active in product development together with the communities.
Clients: Unilever, Virgin, Department of Transport, and Rolls-Royce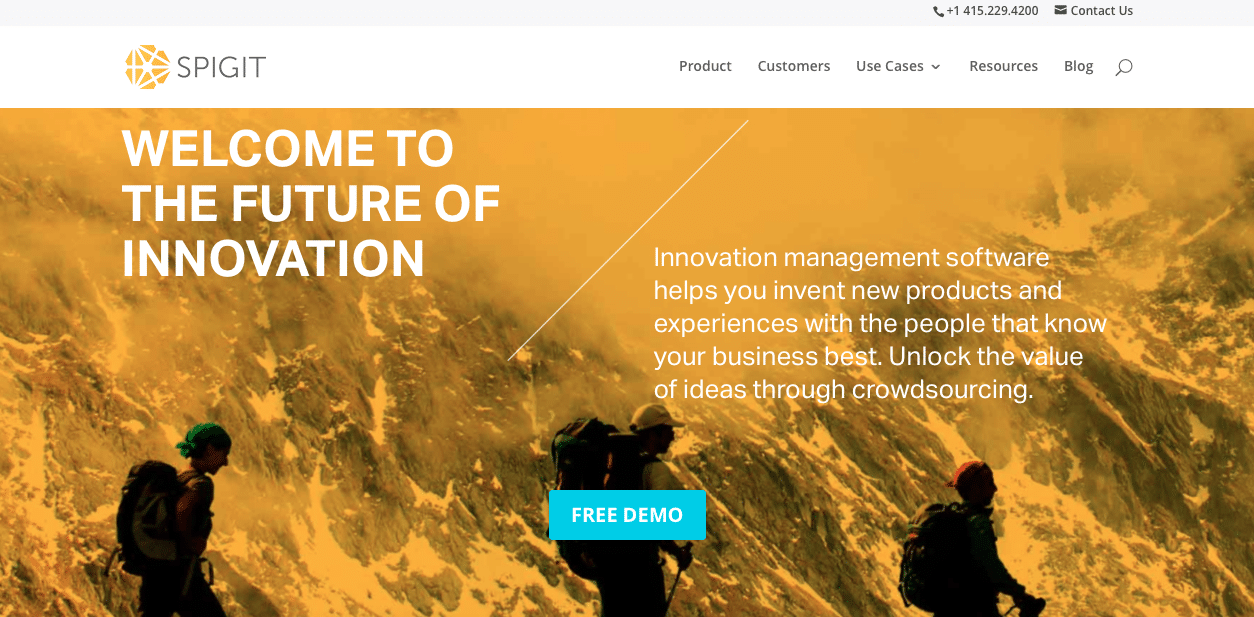 How it can help you: The participants in Spigit are already familiar with your business, so you can gain more valuable ideas for product development and innovation from them. Who are the participants? The community itself includes the employees, partners, and customers. With extra (and by all means, hundreds and thousands of) brains and eyes to think and see beyond the company's perspective, you can identify and drill new ideas.
Case Study: Spigit handled Citi's "Future in Banking Challenge" where more than 46,000 of the employees contributed 2000 ideas in the first round. Using their scalable platform, they crowdsourced ideas from the global community in 11 languages.
Clients: AT&T, Sprint, Citibank, Forrester Research, and Siemens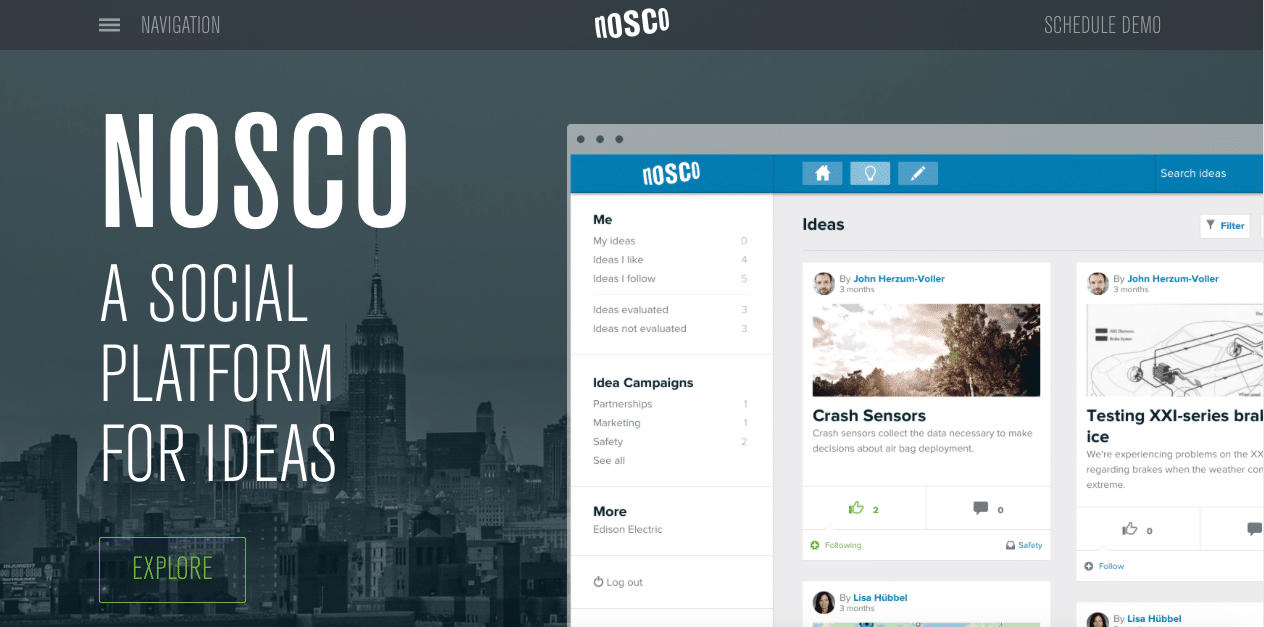 How it can help you: Nosco is a social platform for ideas where employees and customers can share ideas and collaborate with you for product development and improvements. The app is also accessible via smartphone, allowing your assigned admins to track everything in the pipeline. The platform facilitates the collection of ideas and has high customization on organizational needs and good usability. The four key features involve social (where the collaboration among participants starts); workflow (they have specific stages for idea generation; measure (provides metrics of progress and performance) and manage (handling the people and ideas during the process).
Case Study: Danfoss uses Nosco's platform for their big annual business plan competition, Man on the Moon. The employees submit their ideas and comments and also form a team to explore. Forming a team in this competition is vital because generating new ideas cannot be achieved alone.
Clients: Allianz, Reebok, Colgate, and Volkswagen.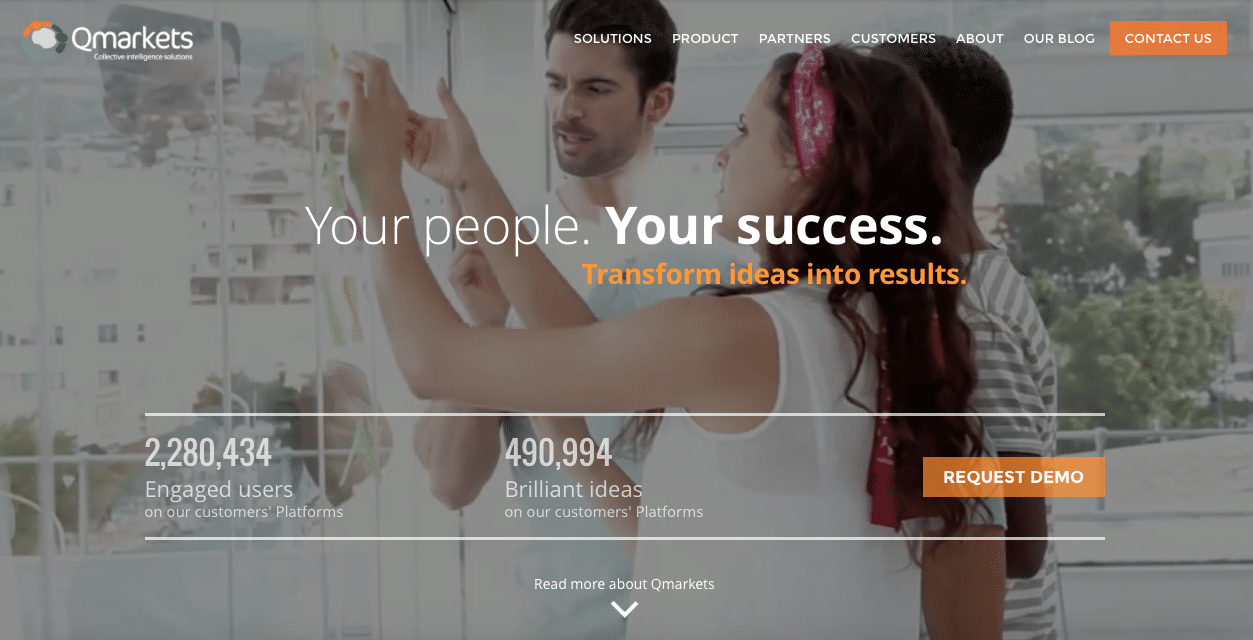 How it can help you: Qmarkets offers a full range of innovation crowdsourcing products to meet a wide variety of use-cases, from Idea & Innovation Management, to continuous improvement and technology scouting. Known globally for their flexibility, Qmarkets configures their product to suit the exact culture and requirements of their clients. This approach has led to them receiving numerous awards, and acclaim in several analyst reports over the last few years.
Case Study: Swiss Post, one of the largest employers in Switzerland, uses Qmarkets' software to meet a wide variety of their innovation needs. They recently reported that this project had generated over $9.5M in value for the organization.
Clients: Lufthansa, Nestle, PMI, Ford, Bank of America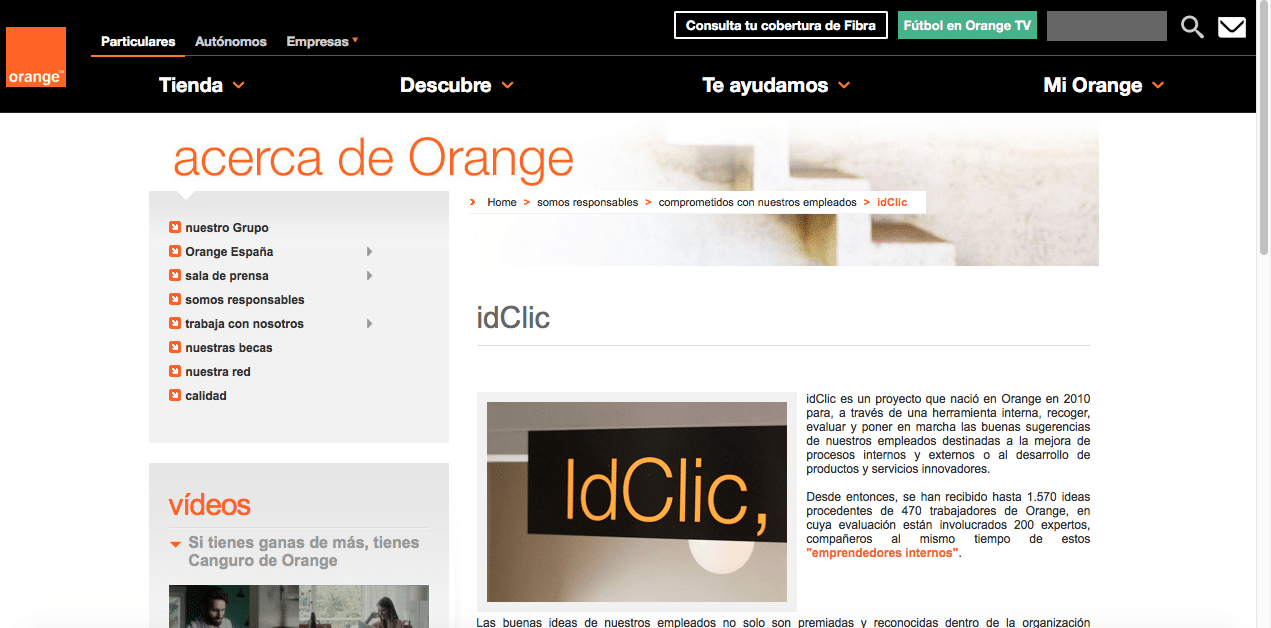 How they can help you: An internal open innovation tool for Orange, idClic is used for collecting, evaluating, and implementing ideas from the employees for the development and improvement of products and services. To recognize the efforts and reward those who have bright ideas, they are highly regarded as "best practices" by the other Orange's subsidiaries and celebrated annually in an "International Festival of Ideas."
Case Study: According to PowerVote, "The CEO, Stephane Richard was interviewed about this seven-year-old platform – "Our employees have 20,000 ideas a year"* – highlighting how valuable this tool is for both employees and the company."
Clients: Orange (idClic is Orange's internal open innovation tool)
How they can help you: Hyve is a Germany-based innovation company that specializes in market research, design, product development and software solutions for online communities and idea management. They also have an HYVE Science Labs where they combine academic, business, and consumer insights for open value creation.
Case Study: They helped Bombardier, a mobility and aviation company, on their "YouCity Contest," an open innovation contest to generate new ideas for the future of mobility. In this project, they have collected 215 ideas and videos from 800+ members from 74 countries with more than 1,300+ of evaluation both online and offline channels.
Clients: Adidas, Airbus, Audi, DHL, Nestle and more.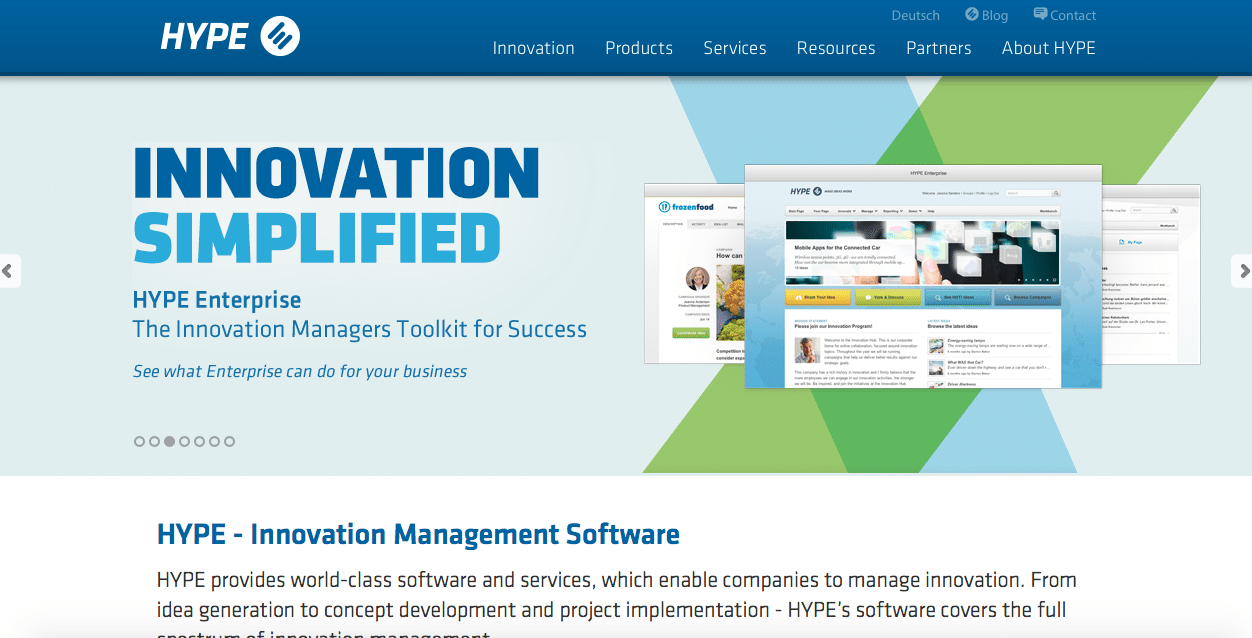 How they can help you: Hype is another Germany-based innovation management company in full support of your idea generation, concept development and project implementation throughout the process based on this three-core service framework: Strategy, Architecture, and Execution.
Case Study: Hype was responsible for handling Osram's significant increase of cost savings by using their platform to boost participation and engagement rates.
Clients: Nokia Siemens, GE, Airbus, and Osram.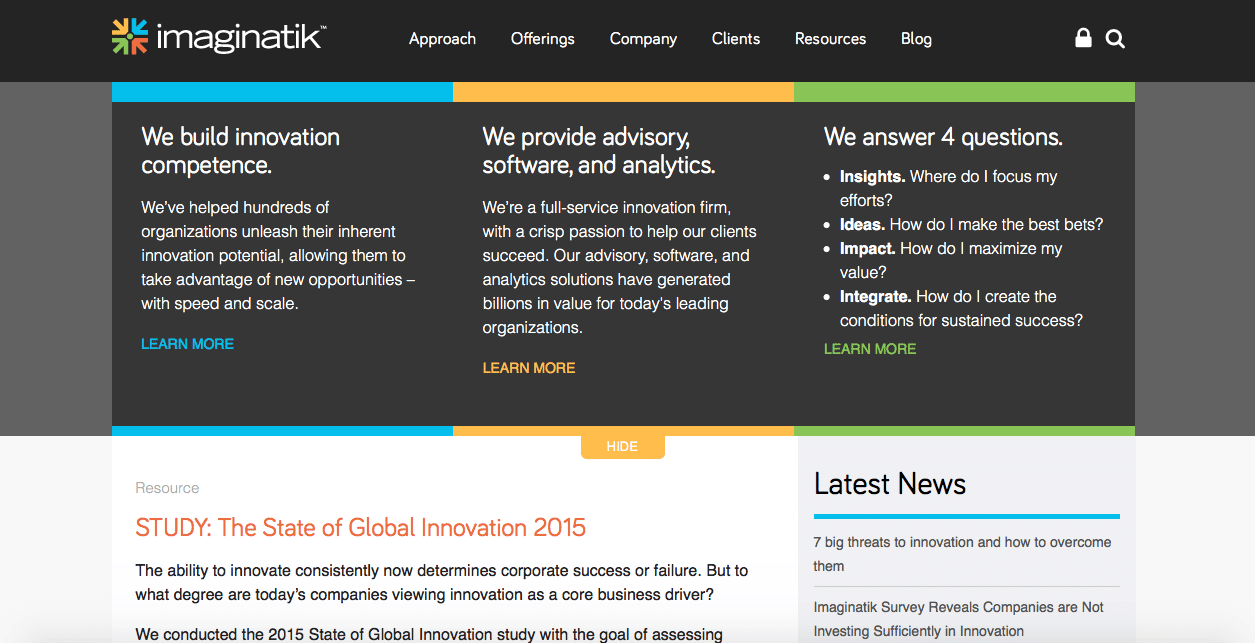 How they can help you: Imaginatik focuses on advisory, software, and analytics to help companies "build repeatable innovation capabilities." They have helped Goodyear in both internal and external Innovation initiatives; they facilitated open innovation at NASA Langley Research to source new ideas and concepts and Walmart's project in energy savings.
Case Study: Imaginatik helped Goodyear crowdsource ideas by facilitating collaborative innovation within their strategic suppliers. Imaginatik provided an external access module, an add-on platform, to spark the open innovation at the Supplier Innovation Event. 32 strategic partners participated and worked on 17 technical challenges provided by Goodyear's in-house specialists.
Clients: Chubb, Walmart, NASA, Cargill and more.
The list could go on… including NineSigma, Innocentive, IdeaScale, The Challenge Post, and more. Are you using other open innovation platforms? Have you used any of the ones listed above? Or click here for a January 2021 update.