Midway through the two-centre CSW Arctic // Europe 2018 conference, everyone including delegates, speakers, our CSW Sweden Team and our local supporters made their way from the coastal city of Luleå to Vuollerim, a rather remote inland village with a population of 800 people. Very appropriately, the conference themes in Vuollerim were the Sharing Economy, Job Creation and Rural Development.
In addition to hearing further crowdsourcing and crowd innovation insights from more speakers and panel sessions (and here is a link to the first part of the conference in Luleå), everyone was going to gain first-hand knowledge of the local symbiotic lifestyle in which being an active part of a crowd provides vital support and security. Whilst the Arctic climate and sparsely populated terrain make this virtually a necessity here, the lessons that can be learned about the pooling of resources, sustainability and decentralisation in favour of local empowerment can be applied by other communities the world over.
This local "can-do" collaborative commitment has given Vuollerim an astonishing 60 businesses, 40 NGOs and 7 crowd-based companies! Several local speakers epitomised the dedication and determination of their own Swedish crowds, and some international speakers enlightened the conference with how comparable collaboration is making a difference in their communities. Unfortunately this article can mention only a few of the speaker sessions, though we extend a sincere "thank you" to everyone who took part.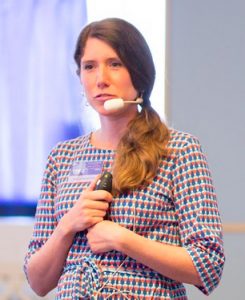 Ylva Lundkvist Fridh, a Coordinator at Rural Sweden (Hela Sverige ska leva) spoke on the transition to living local economies through taking individual village-level action. There are 5,000 village action groups in Sweden that are supported by the government and ngo agencies. Intrinsic aspects of how people live their lives include carpooling, tool sharing, making clothes, sharing professional and tradesman skills on a barter trading basis, and similarly trading any surplus natural products such as fish, fruit and vegetables. This reduces the overall demand on limited resources.
At an extrinsic level beyond personal needs, shared cultural events such as folk music festivals, other concerts, museum lectures and even a community sauna are more strongly recognised as the mortar that binds individuals together. And up to 5,000 communities are monitoring biodiversity in gardens and forests, creating insect-friendly gardens to support the larger animal and bird food chain, and providing the government with a mass of crowdsourced data to monitor the impact human activities are having on climate, flora and fauna.
The Arctic Artisan Food House is one of Vuollerim's crowd-owned businesses that puts its profit back in to the community. Louise K Larsson and Agnes Otterbech told delegates the survival of local Fjällko mountain cattle had been under threat. A plan was devised to make the cattle contributors to the local economy through making cheese from their milk that would become synonymous with the village. This was achieved by the Artisan Food House working very closely with Arctic Circle Products  to forge an economic association that saved the cows.
The venture needed some money to get started and some offline crowdfunding with flyers spread the word. Hoping to raise SEK100,000 they achieved double that amount, SEK200,000 (about €20,000). In October 2017 they needed some help to build their dairy and workshop in a hurry as winter was fast approaching. Almost 30 people helped out and in five days the basement was completed before the ground froze.
Now, 18 months later, the first Arctic cheeses are about to be sold to customers in Sweden, Germany and Norway. The dairy is also set to become a coffee shop where the specialty cheese will be sold alongside other traditional food items, making the place a local attraction and providing further work.
There is also now a cow-funding scheme that encourages people to adopt one of the local cattle to help keep them from extinction, and a digital crowdfunding campaign is being talked about to already expand the business.
We have showcased this initiative as a great example of a collaborative, community effort to leverage and sustain a unique rural resource and create local job opportunities. Given its specialist nature its scaleability may be limited, though it's a clear encouragement to many of the other 5,000 Swedish village action groups, and other communities around the world, to be creatively entrepreneurial.
Several international speakers delivered insights in to similar projects in their countries, and unfortunately we are limited again to specifically mentioning just a few of them.
In Indonesia, Helianti Hilman has been working with indigenous farmers for 8 years in an effort to retain the diversity of local produce under the brand name JAVARA. The focus is on the pristine foods of Indonesia, where many varieties of rice, as an example, have been lost during recent years.
Christiana Gardikioti, founder of The Meraki People, talked about revitalising rural villages in Greece as organic communities. Since 2010 Greece has been in a state of bankruptcy, where water scarcity has contributed to burnt down forests. Groups of participants in the programme meet with technology experts to learn about how to shift their local society from scarcity to abundance through agroecology and bioeconomy models to focus on local resources and develop areas such as specialty food production and tourism, such as Vuollerim has.
All the initiatives mentioned here require people to learn new ways to do things, and how to see situations from a different perspective. And we need to be able to develop solutions in urban areas. Dr. Kristian Mjøen of Trondheim City and the Norwegian University of Science and Tech wants to "create an open innovation pipeline" that leads to more bottom-up rather than top-down solutions. This can be by involving communities in crowdsourced data collection to influence better decision-making and asking for low cost solutions to problems from the people who are actually experiencing them first-hand.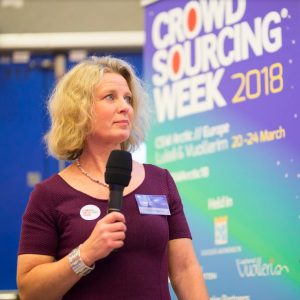 In closing, our great thanks for immense help in staging this conference go to Eva-Lena Skalstad, Executive Director of Lapland Vuollerim Welcomes You, and her team.

The next Crowdsourcing Week conference will be in October 2018 in Washington DC, USA. Its main theme is decentralization through crowdsourcing that continues to influence economies and industries positively across the globe. Tickets are already available. We hope to see you there!