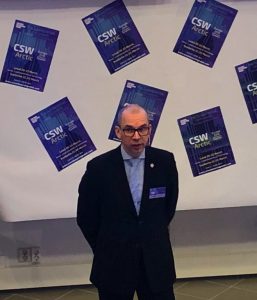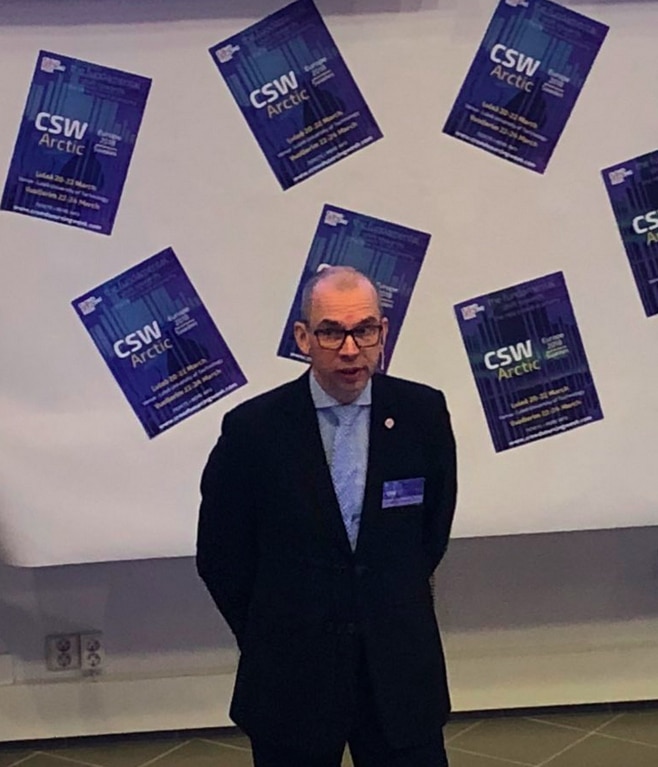 Niklas Nordström, Mayor of Luleå, opened our five-day international crowdsourcing conference in Swedish Lapland on Tuesday March 20. The city of Luleå on the Baltic Sea coast near the Arctic Circle is the first of the conference's two locations. Almost forty sector-leading speakers and panellists from around the world will share insights and updates with delegates on their latest activities and observations on developments in crowdsourcing and crowd innovation.
Luleå has historically been a major regional port used by local forestry, mining and steel production industries, though is transforming to a future based more on sustainability and digital know-how – it's the site of Facebook's first data centre outside the US. The region's cool temperatures reduce the energy required to dissipate the heat produced by a multitude of servers stored in three hangars that are each the size of six football fields.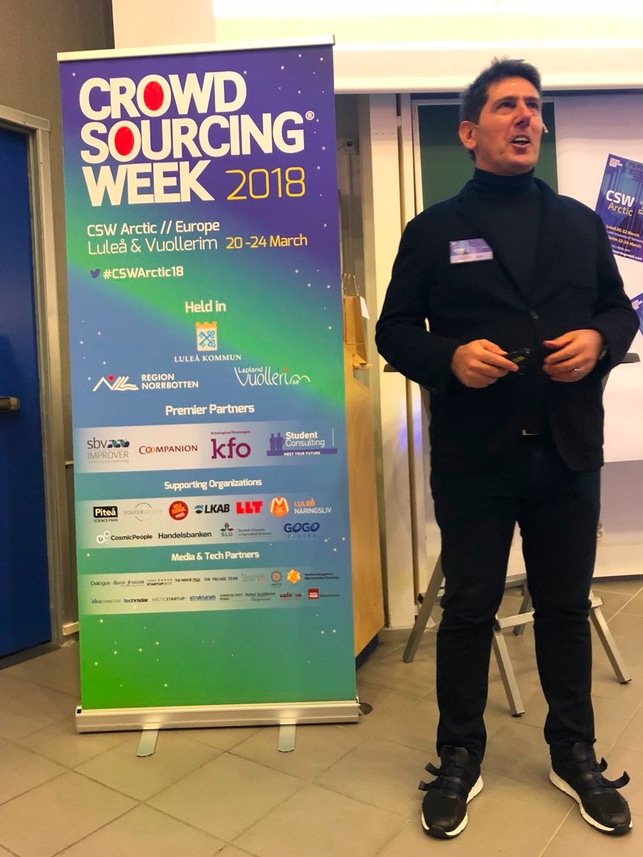 CSW's CEO Epi Ludvik Nekaj opened the first full conference day on March 21, which was themed Innovation, Energy and Sustainability. He was followed by the Mayor who gave an insight to the economic transformation the region is undergoing with its reliance on sustainable energy.
Then Dr Stéphanie Boue of Philip Morris International explained how the methodology and results of PMI's development programme to provide less harmful products are shared for verification with scientists around the world through an open innovation platform called sbv IMPROVER (Systems Biolology Verification).
Other speakers this day included Xavier Damman, founder of OpenCollective, a platform that enables communities to make transparent contributions to the costs of open source projects. He emphasised that collective models directly activated by people's personal resources are re-energising democracy without the hassle of wasting energy on needless bureaucracy.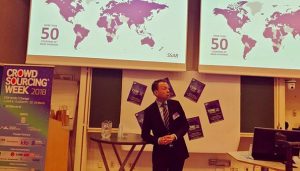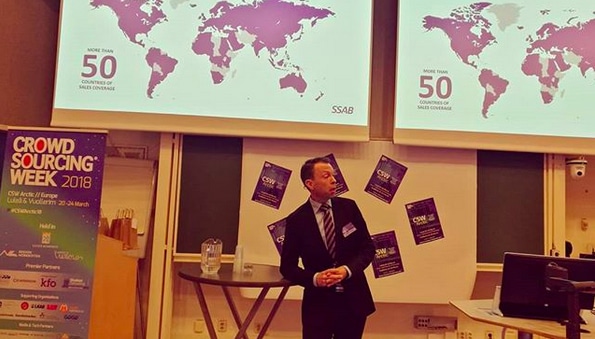 Thomas Hörnfeldt, Vice President of Sustainability and Public Affairs at SSAB – Swedish Steel Industry, informed us that in developed economies the annual demand for steel is equivalent to an average of 250kg per person. This demand is made up of industrial machinery, cars, public infrastructure, consumer and durable goods, homes and business buildings. He introduced delegates to Crowdthinking to reduce this figure.
Tom Vollmer is the Head of Sales & Internationalisation at Cosmic People, a Copenhagen based creative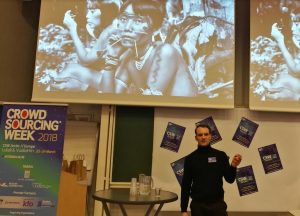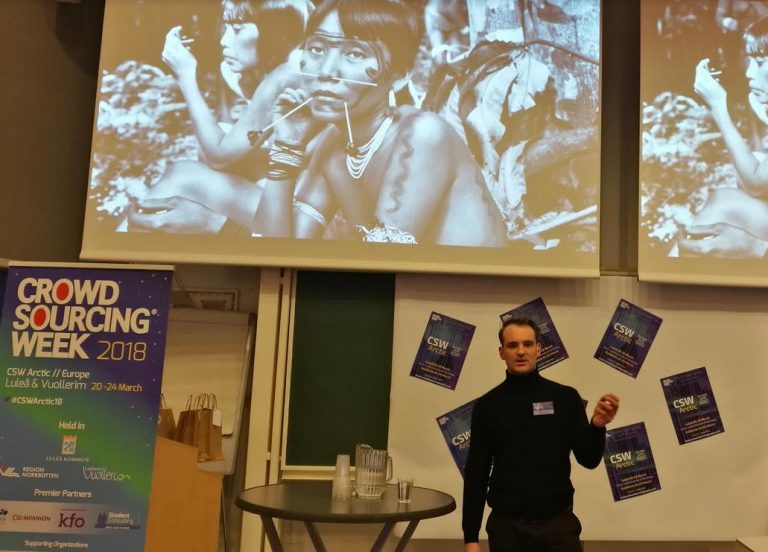 crowdsourcing agency. Tom explained some secrets of creative crowdsourcing. Rather than maintain a permanent creative department of fulltime professionals, Cosmic People combines crowd creativity – the creative power of millions of creators – with an expert agency management team to deliver solutions to their clients. They have enlisted around a hundred professional creative crowds centred on particular crafts and use crowds that specialize in illustration, concepts, film, innovation, banners, graphic design and voice-overs to name just a few.
Day Three, March 22, continued the theme of Innovation, Energy and Sustainability.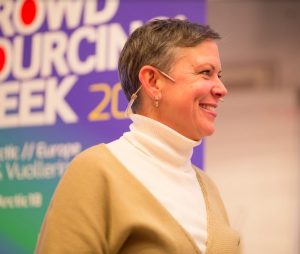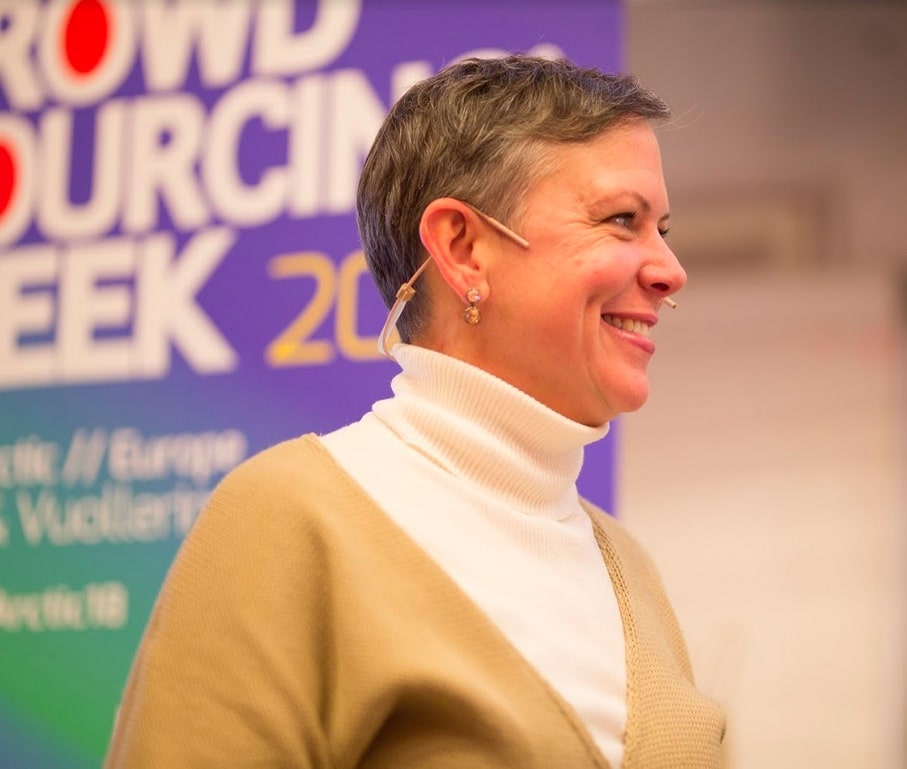 Tammi Spring is an Open Innovation Consultant and Director of Glider, a community focused non-profit that promotes collaboration and inclusivity through events, storytelling, and arts, technology, and educational programs. She spoke on the topic of Myths of Innovation. Two key points included that for best outcomes you need to love the problem and not the solution, and the person who's best at building relationships with their peers within an organization is the best person to take crowdsourcing/open innovation programmes forward. Innovation requires long-term commitments, such as an aim to reduce a 5 year R&D timeline to 2-3 years. Tammi also shared with us a 10% rule of thumb on open innovation challenges: when you start and communicate with everyone, on average 10% of them will be interested.
Åsa Ericson, a professor in product-service systems and assistant scientific director of Effective Innovation and Organisation at Luleå University of Technology (LTU), and Johan Wenngren, Post-doctoral Researcher at LTU, addressed delegates on "Crowds and Co-Located Innovation – A Perfect Mix?" They showcased creating all types of innovation prototypes.
After lunch everyone embarked by bus to the conference's second location in the rural environment of Vuollerim. The story of the CSW Arctic // Europe 2018 conference continues in our next blog.