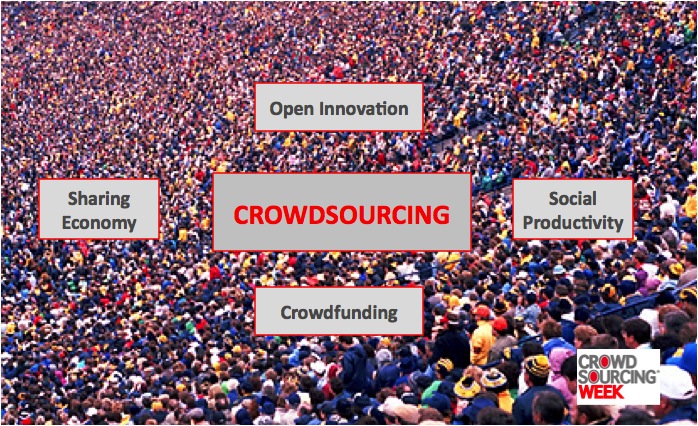 'Likes don't save Lives' – this simple but impactful message by UNICEF puts everything in perspective: social media as we know it is great, but what happens after the like, tweet or share? How can we give social media a little edge to live on longer and be more productive?
Social shares are not the currency we should focus on when it comes to achieving real traction and impact. When done right, these are just bonuses that come out of a much deeper interaction.
How can brands, organizations, social enterprises, governments and nonprofits achieve this deeper interaction and turn it into something more meaningful or productive?
There are many ideas and movements that aim to get communities to act and put social media into a bigger and much better context: the sharing economy, access economy, collaborative consumption, co-creation, collaboration, open innovation amongst others. To me, all of them simply say- crowdsourcing.
Technology is fueling disruptive business models. Companies and enterprises can engage with their customers on a completely new level – motivating the crowd to achieve great things and solve big problems. And for the first time all the social media interactions, that we have grown to become familiar with, is turning into – social productivity.
Most of modern society's social problems can be solved through collective action. Social media on the other hand has taught us how to be open and transparent, sharing what we care about, enabling us to express our opinion and give open feedback at any time. Now, crowdsourcing brings the two together with a much bigger impact and presents a future where it is becoming a new way of doing things for social productivity.
Let's put crowdsourcing in the context of collaboration for businesses. Can we create cars together? Yes, we can. Every car enthusiast from fabricator, industrial designer to engineer can be a part of collaborative projects from automotive companies through Local Motors. Every designer can upload their work on 99Designs, every toy enthusiast can submit ideas to LEGO, every photographer can be part of ImageBrief, everyone from everywhere can be hired on demand on Elance. And with the right reward structure in place, they can earn a living, while living their dream! Its easy, transparent and beneficial to everybody. Companies can tap into the minds and opinions of many and send a clear signal that they are willing to listen to their customers and make them part of the process. It's a win-win situation for both the bottom-line focussing enterprises, and the consumer. This is what I call Social Productivity.
Transparency is key and all stakeholders are putting their reputation on the line. Consider what Ebay has done to e-commerce by giving sellers and buyers a reputation currency based on their activity. Now, think about social productivity platforms that are bringing people and companies together while matching their interests with products.
And it only gets better. With so many pressing problems around the world; we should not, and cannot just leave it to our politicians and a handful of NGOs to solve these social problems for us. We all can make a difference if they let us. Governments and planning authorities are starting to understand this. Iceland is taking steps to crowdsource its own constitution, USAID is asking 'everyone' for help to find the right beneficiaries and Finland is crowdsourcing new laws. With mobile technology and smartphones we can be the difference anywhere and anytime. This is what I call Social Productivity.
When finding a job, recommendations on LinkedIn help us take a step towards a new career. To become a successful seller on Ebay, color coded stars give us credibility. We have seen that when it comes to raising funds, the potential of crowdfunding is yet to be seen. If today we are seeing movies, watches and other products backed by millions of dollars from strangers in realtime, it is clearly an indication that we have entered the new era of the internet.
The downloadable Internet has given way to the uploadable Internet, where the crowd wants to share their skills, thoughts, opinions, designs, ideas and money.
So when you think of social media today think more in terms of social productivity and crowdsourcing to create lasting impact for your organization and stakeholders.  Your social currency is no longer just based on interactions on Facebook, Twitter, LinkedIn, Google+, Weibo etc. That currency is based on social productivity platforms, company core values and culture.
Now, how can you increase your organization's social productivity? Think beyond social shares, think about crowdsourcing, think about making it a part of your organizational DNA, think about social action.
Please join me at Crowdsourcing Week in Singapore where thought leaders and pioneers from around the world share their knowledge, ideas and insights on how to leverage the power of crowds.
Look to get inspired.