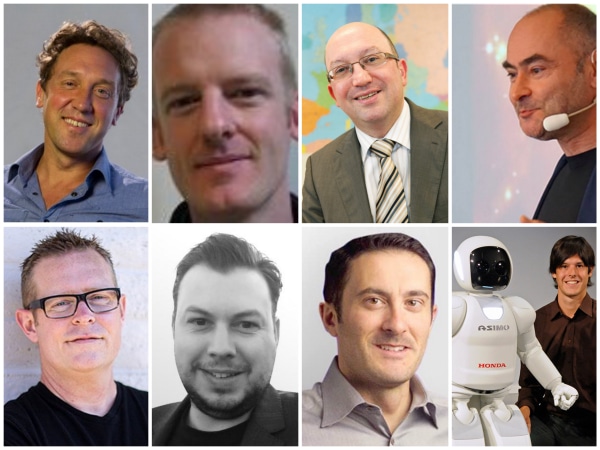 We have 8 weeks to go before Crowdsourcing Week Europe 2015 kicks-off in Brussels, and the million-dollar question is: "Have you booked your ticket yet?" The line-up of speakers is remarkably impressive, and as we introduce these 8 new faces who will cover crowd disruption through open innovation, Blockchain, energy models & future of mobility. 
Need we say more? Crowdsourcing Week proudly presents the next batch of speakers coming from the USA, UK, France, and of course, Europe's hotbed of innovation, Belgium.
Winning By Co-creating: Stop Thinking You Must Create and Deliver all The Value." – Christophe Fauconnier, CEO & Founder, Innate Motion and Stijn De Rijck, Marketing Manager, Materialise
Christophe Fauconnier, CEO & Founder, Innate Motion
As a white South African, growing up under the Apartheid regime, Christophe Fauconnier was often viewed as a bit of a troublemaker. He could never stop challenging narrow-mindedness. It got him into trouble on several occasions, and the age of 18, after the State of Emergency was declared in 1985, Christophe was encouraged to leave the country and seek wisdom elsewhere.
In Europe, he studied psychology and economics, but his personal mission became 'liberating' himself and others from the institutional- nonsense and self imposed limitations that stop us from creating more value people to people.
This mission gave birth to the creation of Innate Motion group, a business humanizing company that grows brands with purpose. Christophe is always a system-challenger, except at home, where he understands that it makes more human sense to conform.
Stijn De Rijck, Marketing Manager, Materialise
While completing a Masters in Product Design at schools in both Antwerp and Barcelona, Stijn De Rijck became fascinated with the magic of 3D printing. He first started using 3D Printing technologies for technical prototyping while working as an industrial designer of green technology. Later, when he was a game designer, he used it to communicate new concepts to clients and colleague, and to test the games with target groups.
In 2006, Stijn started to work for Materialise, the leading provider of 3D Printing software and solutions. He quickly discovered that if you leave the limitations of traditional manufacturing technologies behind, you can create better products and even transform how businesses run. He soon realized that the most successful projects were those where he was able to merge the experience, knowledge and creativity of a customer with the 3D Printing expertise of Materialise. And so he started to make co-creation part of the Materialise culture.
"Innovation drives regulatory policy; making ahead or the other way around?" – Joost Vantomme, Director Public Affairs, FEBIAC
Joost Vantomme has over 20 years' experience in legal, regulatory and public affairs. He served telecommunications and postal incumbent operators as legal and regulatory/public affairs director, combined with leading policymaking roles in European associations such as PostEurop and FEDMA and at UN level (UPU). He was influential in the EU telecoms and postal reform as well as in a number of national regulatory reforms. Joost was also Director at the EU consultancy Hill+Knowlton Strategies and is frequent speaker at conferences and academic audiences.
Joost is author of a large number of papers on regulatory policy topics in electronic communications, postal services, transport and e-commerce services. He became director of public affairs at FEBIAC since November 2014. FEBIAC is the Belgian Federation of the automotive industry. Joost holds a Master in Economic Business Law, a Master in Law and a Diploma in Teaching Law (Universities of Leuven, Poitiers and Louvain). He is fluent in Dutch, French, English and German.
"The New Energy Paradigm Enabled by Crowds"- Carl Malbrain, Chairman, Energy Decentralization & Innovation, CSW2
Carl has more than 25 years of executive management experience in an international context, working for both listed multinational companies and government where he demonstrated expertise in change management.Carl has extensive expertise in the fields of engineering, finance, construction, energy (nuclear, renewables), utilities (water, waste) and health care.
At CSW Europe 2015, Carl will talk about the new energy generation and supply paradigms that are propelled by exponential innovation and crowd co-operation.
"Communities are the Way Forward in the Crowd Economy" – Bill Johnston, Founder and Principal, Structure3C
Bill Johnston is an executive who specializes in leading the vision and strategy to help organizations build online communities and innovate with social technologies. Bill has launched successful online community initiatives that have connected over 10 million customers and realized upwards of $100 million in financial impact for the host organizations, including TechRepublic, Autodesk, and Dell. Bill developed and hosted a number of pioneering conferences, including the Online Community Unconference and also conducted the first Online Community ROI and Online Community Compensation research while at Forum One.
Bill founded the Online Community Roundtable in 2006, the first community for community managers and strategists. Bill is excited to bring his thought leadership and online community expertise to organizations that want to grow their businesses by nurturing their customer communities through his new consultancy and advisory firm Structure3C.
"The Decentralization of Singularity"- Stephan Tual, CCO, Ethereum
In January 2014, Stephan joined the Ethereum project as CCO. His current focus is on smart contracts/smart property and the development of decentralized applications deployed on top of a blockchain infrastructure. He is particularly interested in the potential for societal change engendered by users regaining control over both their funds and personal information. Stephan is the founder and CEO of the world's first crypto-consultancy, Ursium. He regularly speaks at conferences, community events, and meetups, and is the media contact for the Ethereum project.
"Unleashing the Potential of Crowdsourcing Globally"- Alex Torres, VP, Global Product Marketing, Moovit
Alex Torres, VP global product marketing at Moovit, is an entrepreneur with vast experience in B2C and B2B products. He brings hands-on knowledge by marketing a crowdsourced app currently in 55 countries to 20 million users with an increase in numbers each day. Prior to Moovit, Alex worked at Google for 10 years where his focus areas included product marketing and product management, having launched new products like Google Site Search and new versions of Google Search Appliance. Alex also spoke at the San Francisco Collaborative Economy Conference in February of this year.
"Will Crowds 3.0 be Robots?"  – Bram Vanderborght, Prof. Dr. Ir, Vrije Universiteit Brussel
Prof. Dr. Ir. Bram Vanderborght received his Ph.D. in 2007. The focus of his research was the use of adaptable compliance of pneumatic artificial muscles in the dynamically balanced biped, Lucy. In 2006, he performed research on the humanoids robot HRP-2 in AIST, Tsukuba (Japan). From October 2007-April 2010, he worked as a post-doc researcher at IIT (Italy). Since October 2009, he was appointed as professor at the VUB. He is a research director at the Universitatea Babes-Bolyai, Department of Clinical Psychology and Psychotherapy with a project on robot-assisted therapy with ASD children and VUB-PI of the DREAM project. He is a member of the Young Academy of the Royal Flemish Academy of Belgium for Science and the Arts. In 2013, he received an ERC Starting Grant on new generation compliant actuators. His research interests include cognitive and physical human-robot interaction with core technology using variable impedance actuators.
Get more information on CSW Europe 2015 tracks and the full list of speakers on the conference website. Follow the action in the lead up to the conference on social with the hashtag #CSWEurope15. Remember, summer bird pricing ends September 15, 2015 – Register now.