CSW Summit Tehran on May 20 was Iran's first crowdsourcing/crowd economy conference.
The event was attended by over 250 delegates at the National Library of Iran who enjoyed inspirational panel sessions and presentations featuring a lineup of Iranian and international experts.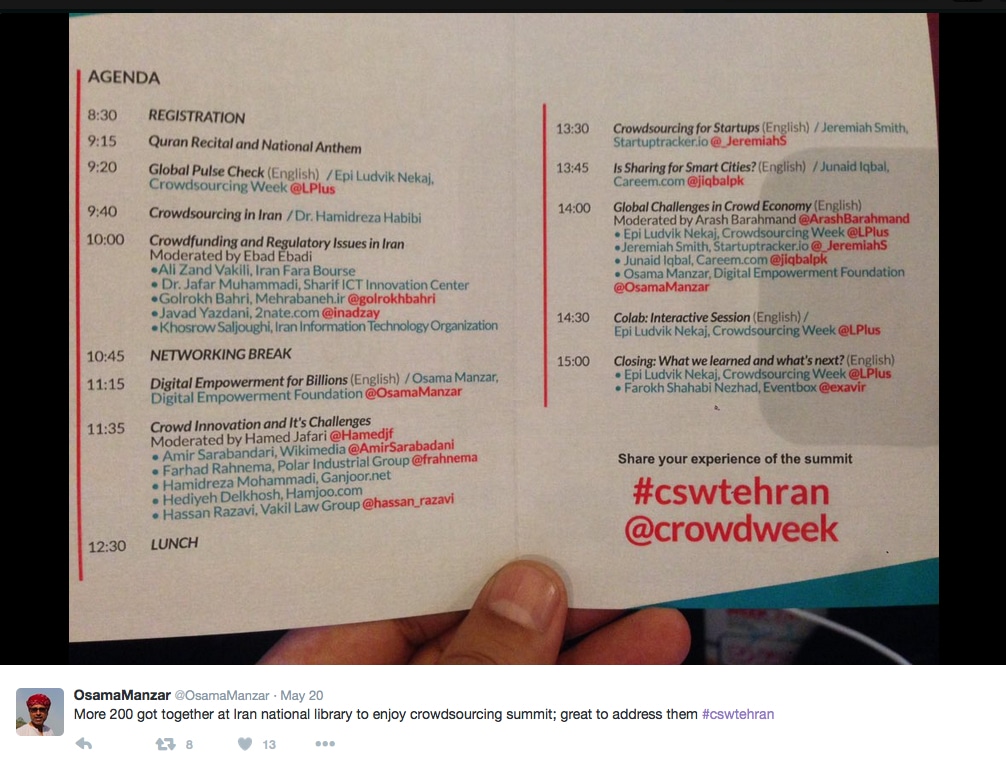 A selection of the presentations can be accessed here. Below are some tweeted highlights of the day.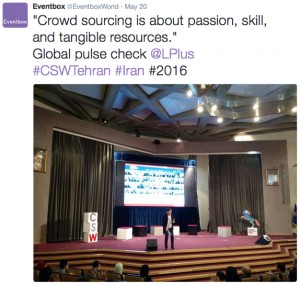 Crowdsourcing Week founder and CEO Epi Ludvik gave a scene-setting opening address on the global pulse of the crowd economy and the trends in years to come.
Dr. Hamidreza Habibi spoke on crowdsourcing in Iran and highlighted an issue faced the world over. High levels of personal interactivity through mobile technology make crowdsourcing technically possible, though can we trust everyone who reaches out to us and how we can project ourselves as trustworthy?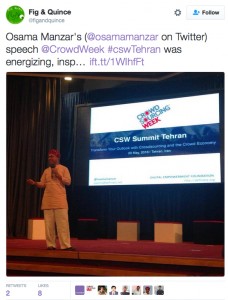 From India, Osama Manzar, the founder of the not-for-profit Digital Empowerment Foundation in 2003, gave a well-received presentation on the topic of Digital Empowerment for Millions. DEF's aim is to empower marginalised communities living in socio-economic backwardness to improve their lives by providing them with access to information and knowledge on using digital tools. They also establish community-owned and community-managed digital infrastructures in rural and semi-urban areas with communal access to internet connections and use of computers, laptops, tablets, printers, scanners and cameras. So far, DEF has helped over one million people become digitally literate.
The panel on "Crowdfunding and Regulatory Issues in Iran" shed light on a cache of regulatory issues and the various solutions that both the private and public sector were developing in response. Mr. Ali Zand Vakili, Head of Intellectual Property from Fara Bourse, informed the audience of the new regulatory processes for issuing licenses for Venture Capital firms and how it impacts crowd-based businesses. The panelists who are all part of a committee consisting of public and private sector stakeholders, also shared their initiative on working towards a draft prospectus on crowdfunding regulation in Iran.

Crowdfunding has democratised access to funding for business startups around the world, though a widely held belief is that the crowdfunding platforms should follow clear best practices to avoid the possibility of being formally regulated by financial authorities. The same comment was heard in April 2016 at the Crowdsourcing Week Global Conference in London, UK.
Junaid Iqbal gave an amazing presentation about how Careem drivers (Careem is the Uber of the Middle East) stepped forward to help when Lahore in Pakistan was rocked by a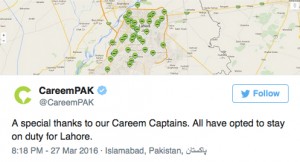 suicide bomb attack in March this year. With such a high number of casualties there was soon a blood shortage and an appeal was made for donations from the citizens of Lahore. The drivers – who Careem call their Captains – worked through the night to take donors to hospitals, and Careem waived the fares. Even at 4 a.m. hospitals in Lahore had queues of willing donors waiting in line.
During the Q&A, the audience curiously inquired about any Iran plans for Careem, and Junaid confirmed that Careem was planning to enter the Iranian market.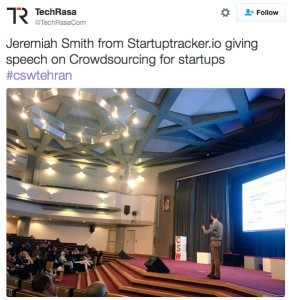 Jeremiah Smith spoke on Crowdsourcing for Startups, and about how his company Startup Tracker crowdsources information to keep people up-to-date on up-and-coming business startups. They combine information from leading providers and social media, and fill in any gaps by crowdsourcing directly from the startups themselves. After installing a browser extension it's a one-stop-shop for information which is much faster than numerous sweeps using search engines like Google. It's one of a growing number of examples where disruptive brands are themselves being disrupted by the next stage of business evolution.
The afternoon included an interactive COLAB session of crowd collaboration in action, moderated by Epi Ludvik. Salam Iran is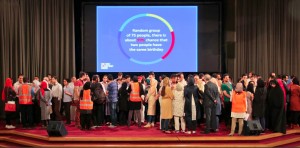 an online crowdsourcing initiative asking for suggestions for a marketing tagline for tourism in Iran. The entire audience took part when they were asked to group themselves by their month of birth and co-create a tagline. This exercise, based on the Birthday Paradox, helped create new synergies among the delegates by connecting people, who in many cases might not have otherwise spoken with each other, in a fun though task-oriented manner. We also found out there were five shared birthdays in the room.
Additionally, a selection of previously suggested taglines were selected for delegates to vote on, and the winner on the day was "Beating Heart of the Middle East." Runners up were "Touch the History" and "Iran, Infinite Hospitality." Delegates were encouraged to keep adding their own suggestions to Salam Iran until the initiative closes at the end of the year.
In his summing up to close CSW Summit Tehran, Epi Ludvik commented Iran has a huge potential, however there are still a number of challenges to overcome as a legacy of international sanctions. Although the younger generation are very adaptive to sharing, when it comes to the majority of people only time will tell the extent to which they accept the sharing economy.