Taxi drivers in the Capital region opposed Uber yesterday by staging an official protest and stalling traffic on major DC streets. They want the DC government to follow Virginia and make Uber cease and desist operations in the District.
Uber's unique model uses a smartphone app to enable users to find a cab when they need it. Uber launched in DC in 2012 and has been committed to providing customers with a  great experience.
Washington Post reports,
The drivers are members of the Teamster-affiliated D.C. Taxi Operators Association and the target of their protest is digital dispatched ride-sharing services such as Lyft, UberX and Sidecar, where regular people give rides to others using their private vehicles. The cab drivers have been at odds with the new services saying they have an unfair advantage over regular cabs since they don't have to follow the same rules and pay the same fees.
The growing popularity of services like Uber, that use technology with a decentralized approach are being view as a threat by conventional businesses. Simply opposing and banning these new and innovative services makes no sense. The goal of agencies and government bodies must focus on building better improved systems that are more resource efficient, inclusive and ready for our connected societies. The DC government has been friendly to Uber and their counterparts so far by proposing a bill that would allow such services to operate in the District as long as they meet certain insurance requirements and follow safety rules.
In the Capital reports that though the protest may have made an impression, no public brownie points were gained. Uber's demand response pricing reported high demand in DC at noon, a rarity! So, while taxi cabs lost on fare yesterday, Uber drivers did roll in some dough.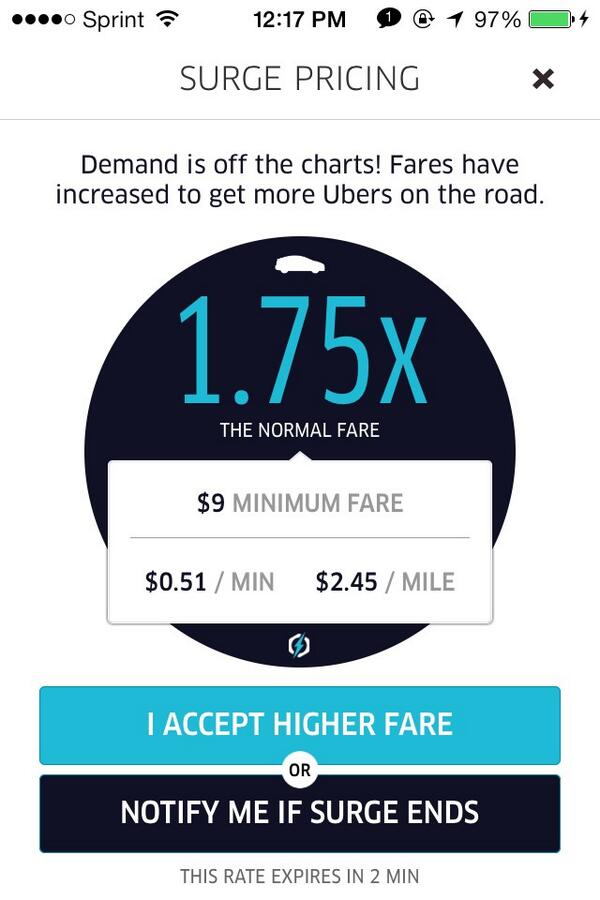 This doesn't normally happen at noon in DC #longliveUber @Uber_DC pic.twitter.com/ASBBSDs4ng

— Monica Perez (@Monica_A_Perez) June 25, 2014