The crowd economy is creating massive shifts in the future of work, education and employment. How can and should today's educational structure change to better prepare next generations for a different work environment? In today's session we heard from some of the top thought-leaders and influencers at the intersection where education and entrepreneurship meet crowdsourcing.
To prepare this day, in conjunction with our Premier Partner KU Leuven, several influencers in this professional sector worked hard to put together a White Paper which you can download here. We would really appreciate your feedback and input to continue developing a broad cross-section of opinions on an iterative basis. The key aspects of today's White Paper were presented by Cécile Huylebroeck of Callida Consulting and Yolande Berbers of KU Leuven.
An overview from CSW's CEO Epi Ludvik Nekaj set the scene. Firstly, it's particularly important for people at the start of their careers to understand why they do anything, not just decide what they want to do. This video clip brings that thought to life. People need to find a purpose and follow it, even more important these days with the changes in employment and employability. Secondly, the crowd economy provides a whole new set of opportunities that the curriculisation process is too slow to teach in formal education.
Why Not? Two Words that can Change the World was the title of a presentation from Alan Barrell of Cambridge University. He reminded us of several of history's greatest disruptors who did not accept the status quo, from Leonardo de Vinci to Tim Berners Lee. The key to change is to challenge. 'Imagination is more important than knowledge," said Einstein. Online connectivity allows far easier open innovation and sharing of knowledge on a massive scale, so let your imaginations run free.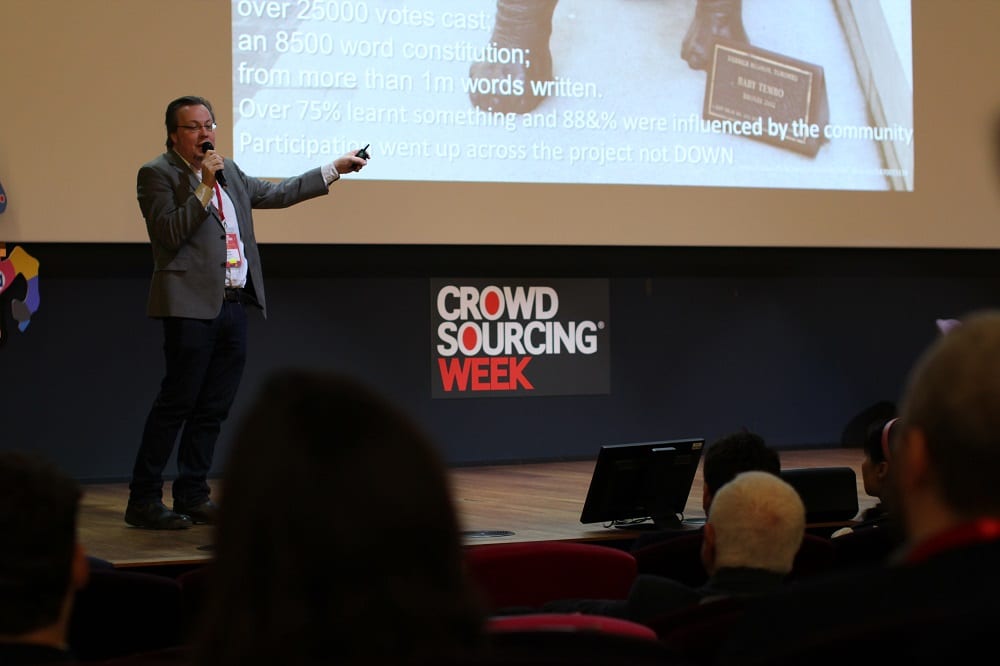 Also from the UK, Peter Bryant of London School of Economics told us about how his project to crowdsource input on creating a written UK Constitution demonstrates a different way to structure learning other than the normal linear methods. It showed the ability of online crowds to be self-regulating with regard to the task and behaviour with each other, to go beyond knowledge sharing to problem solving, and move themselves towards achieving a task by a deadline without a formal "class" leader/instructor. And it proved to be a valuable and rewarding experience to learn as part of a community, offline as well as online as many of the online participants provided input from friends and colleagues they had spoken with who were not directly part of the project. In the end, an online network of 1,500 people wrote an 8,500 word UK Constitution in 14 weeks that was delivered to the UK Government.
Learning outside of formal education was also covered in "Your Neighbourhood Is Your University", a session about opportunities and benefits of crowdsourcing knowledge you want or need from people around you, presented by Michel Visser of Konnektid. Their site meets student demands by connecting them with not only local teachers but anyone registered with the site who has the relevant knowledge the student is seeking and is prepared to share it. Locality makes face-to-face meetings possible, strengthening social communities as a valuable by-product. Professional teachers are able to charge a fee, otherwise there's an expectation of sharing knowledge at no charge.
What of employment opportunities after formal education? Koen De Leus, Chief Economist at BNP Paribas Fortis presented This Time Is Different. Recent shocks of Brexit and Trump's election coincide with (are due to?) a decline in middle class income and growing job insecurity as we enter the Robotics Age. The number of middle income earners has dropped while the numbers of both high earners and low earners have grown. 43% of all jobs are at risk due to automation in the next 20 years, 70% of low skilled jobs. Yes, there are new types of jobs, but while 20% of the jobs that existed in 2014 were brand new, hadn't existed before, they accounted for just 10% of the number of people in work. What are the skills and knowledge required to be in work that can resist automation?
KU Leuven's head of R&D Dr Martin Hinoul spoke on Higher Education and Employability. He has identified hot spot areas of high growth /high value work around the world, and it's no surprise that California's Silicon Valley heads the list. There are also concentrations of 'better learning'. His advice to specialise in the right sectors and then go and live in the right places may sound a bit flippant. Perhaps his real message is to governments to stimulate the growth of more of these hot spots throughout Europe?
The Good Lobby believes in forging unconventional partnerships to lobby for the public interest. Co-founder and Director Alberto Alemanno's topic was Equalizing the Pursuit of Public Interest. Alberto echoed earlier themes of public dissatisfaction and growing feelings of powerlessness and distrust of government and market forces. Relative wealth and income disparity is polarising – 62 people own half the world's wealth measured as GDP, while 70% of low-skilled workers risk losing their jobs to automation in the next 20 years. We are engaged less with politics, as shown by decreasing voter turnout levels in elections almost everywhere. But we live in an age with the means to more easily take governments and other influencers of our society to task through lobbying. If you want something changed – whether to do with employment, education, work opportunities – empower yourself to start doing something about it through crowdsourcing opinion and expertise, and leverage the power of the crowd to make your voice heard.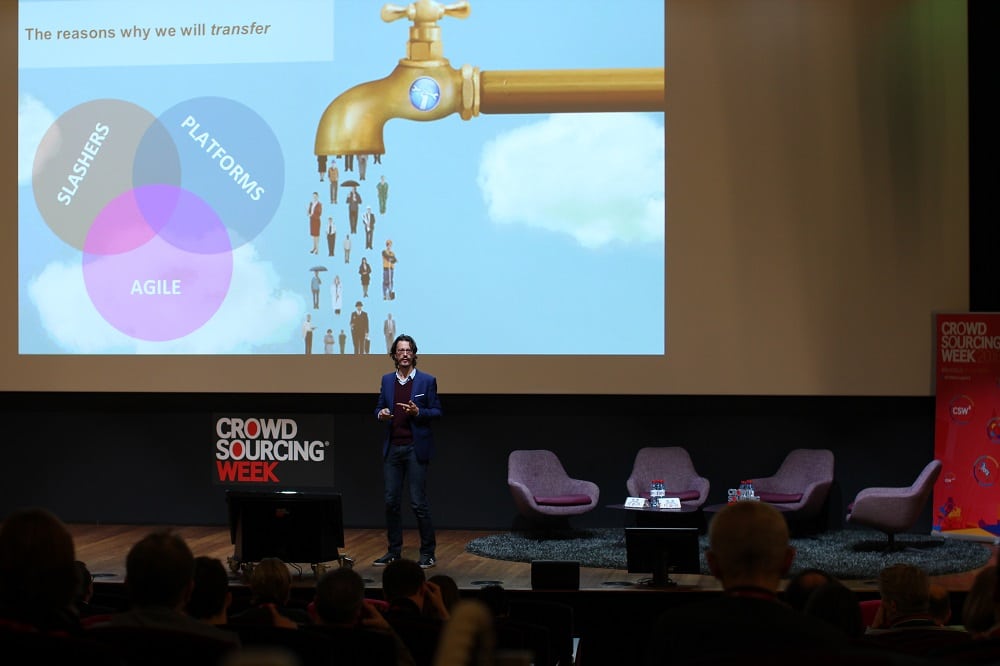 Albert Meige, founder and CEO of Presans, which crowdsources global expertise on behalf of some of the world's leading companies, presented a futuristic view of "In 2033 You'll Be Transferring Not Working." His glimpse in to the possible future is that we will register with companies like Freelancer.com or with others that operate as outsourced company HR departments. Employers will work more on a project basis with shorter-term requirements for people with particular areas of expertise. Helped by an Uber driver-like rating system either the 'freelance' companies or the outsourced HR systems will contact us about work placements, which we choose to accept or let pass. And thus we will live more flexible and personally rewarding lives. Except this scenario may apply to perhaps just 10% of the workforce and the other 90% become commoditised workers with fewer individual prospects. Is it really the way we'd like things to go?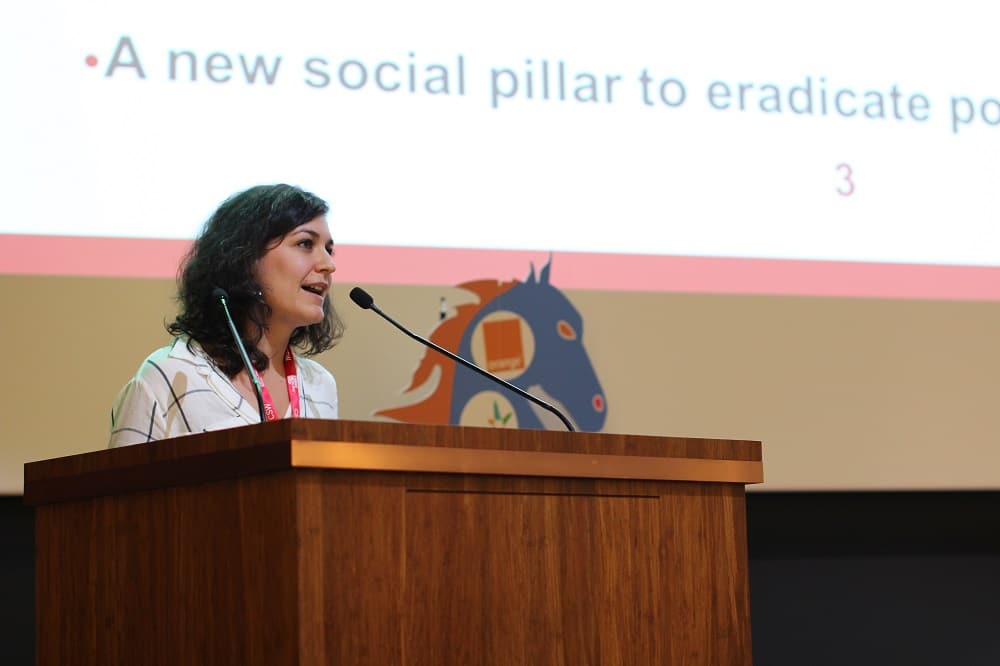 Such a scenario, and the impact of robotisation and job reductions, link to Nicole Teke's presentation called Basic Income In Europe. She made a case for a universal basic income that would be provided unconditionally to each individual, whether they were actively seeking work or not. Nicole said there is a case that pursuing hobbies and interests could have more social significance than doing menial, repetitive jobs. It would also give people some space and time to use their imagination (remember what Einstein said about imagination is more important than knowledge?) to create and launch new initiatives and businesses. Admittedly for some people it could be a disincentive to work at all, and of course it would need funding. Perhaps changes to tax systems could compensate for the growing income disparity between the haves and the have-nots?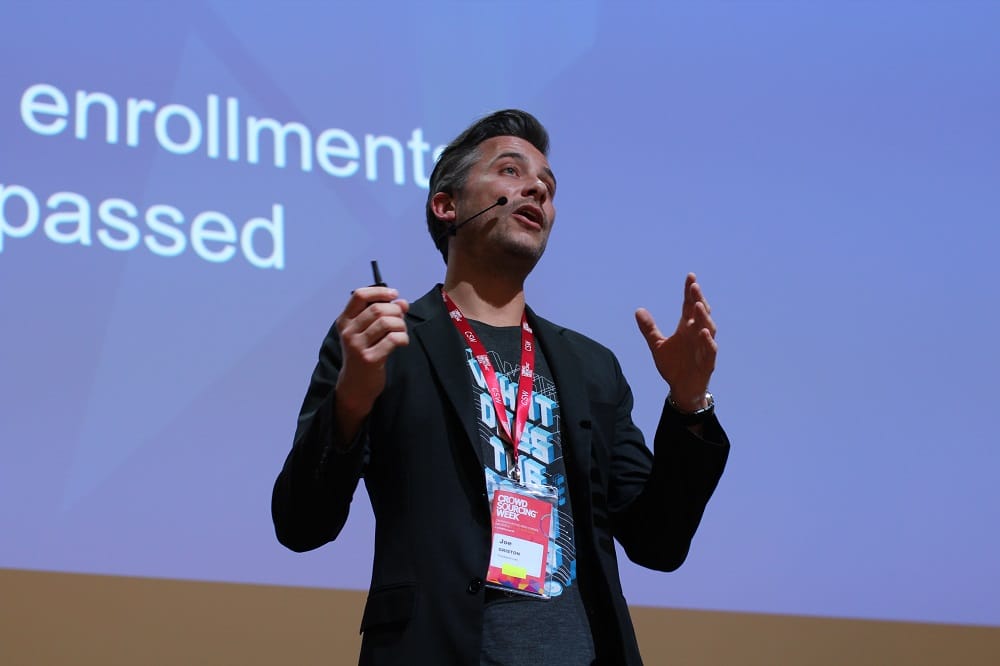 Joe Griston, Regional Director of Europe for Freelancer.com was on stage to present on Crowdsourcing Innovation. All startups need talent, and that talent exists all around the world. Freelancer is a marketplace that connects not only startups but SMEs (small and medium enterprises) with a high quality, on-demand workforce categorised under 950 headings. NASA decided to use Freelancer through a system of contests to crowdsource solutions to their requirements faster and at lower cost than working internally. Examples include a torch to be used on space walks, a wearable app for space walkers, and the design of mission patches that the astronauts wear. The torch had a unit cost of $50, the Ukrainian designer of the app now boasts a fantastic recommendation on his CV from NASA, and the mission patch logo design cost NASA just $250.
Karen Boers explained how Startups.be became a fulltime lobbying body for startups. Initially they gave startups access to global expertise. Once they had 1,500 clients they came to the attention of the government who wanted to use them to establish the needs of fledgling entrepreneurs. After crowdsourcing the required answers the Belgian government created a role of Minister of Digital Agenda, and Startups.be put in place an ongoing iterative process to continually update the Minister on new ideas and requirements. This brought about legislative change, such as allowing people to work through the night to process online orders. Their work pioneered a European Manifesto Movement and their functional role was emulated in Portugal and Poland. Startups.be now represents Belgium in a 21 country national startup association that speaks for over 25,000 entrepreneurs and small businesses.
The ethos of entrepreneurship within large companies – intrapreneurship – was the topic covered by Emmanuel de Lutzel, Vice President social business, BNP Paribas, and writer of a book about intrapreneurship. He had an idea to switch micro-finance within BNP Paribas, a bank operating in 80 countries with over 200,000 employees, from a Wealth Management responsibility to being part of their corporate social responsibility programme. It wasn't on his job spec to do this so he spent months working at weekends and in the evenings to develop his ideas in to something that could withstand scrutiny and be realised. His book (available only in French for the time being) documents the obstacles he faced and key success factors that led his project to fruition. Changing anything in organisations as big as BNP Paribas is like steering the proverbial supertanker – it takes a lot of time to respond and the full process took him a year.
Positive by-products of crowdfunding are increased visibility as effective crowdfunding is also very good marketing; you gain access to the personal networks of all the investors; and it raises your credibility to be able to say you raised money from the crowd. Downsides are that you may have been able to raise more money than the business is really worth as early investors may lack experience. This could present problems if further fundraising is needed later and the value is scaled down. And finally, you may lode some competitive advantage because you will have had to put your business strategy in to the public domain.
This final day of the conference closed with a passionate exhortation from Epi Ludvik Nekaj for all attendees, speakers, partners and volunteers to take something they learned this week and use it, use it to bring about change. Take action, don't wait for the people who lead us, we have the tools available and there's a lot of us – make a difference to bring about a larger and stronger crowd economy.