The blockchain discussion is often focused on the financial benefits – indeed, you can often catch new folks interchange "bitcoin" and "blockchain" in common conversation. The impact, though, will go well beyond fiat currencies and business markets.
One of the companies leading the charge is Horizon State, recently acclaimed as a 2018 Technology Pioneer by the World Economic Forum, the organizers of the annual event for world leaders in Davos, Switzerland. Both Horizon State's CEO Oren Alazraki and CTO  Nimo Naamani will attend the January 2019 annual meeting and rub shoulders with many of the the most powerful people on the planet. 
Horizon State is currently powering breakthrough initiatives in India, Indonesia and with other governments and NGOs to help build democratic discussions. For example, the Australasian startup  is preparing to roll out a community voter platform on the island of Sumatra, providing a test case for the technology, which it is aiming to scale-up for regional and national government elections. Easier and more effective citizen engagement at voting times is crucial in the Indonesian archipelago with its 250 million people spread across 18,000 islands.
Whilst it often gives them the headlines, political voting issues represent less than 10% of Horizon State's activities to harness blockchain technology to facilitate wider mass collaboration in providing public opinion to help steer social and commercial as well as government and constitutional decision-making.
Horizon State's CEO Oren Alazraki and CTO Nimo Naamani focused on tech well before the business began. Both originally hailing from Israel, Alazraki and Naamani grew up with computers early: Oren Alazraki started coding his ATARI 800XL as an early teen, just as Nimo Naamani did with his Commodore 128 when he taught himself Basic while he was growing up in South Africa. By the time he finished school Nimo was also developing software in Pascal, x86 assembly and COBOL.
Alazraki worked with several startups before founding Horizon State, which makes him, in his own words, "a startup guy." Though his last roles immediately prior to becoming Horizon's CEO were a number of General Management positions with Datacom, one of Australasia's largest professional IT services companies with over 5,200 people and $1.2bn revenue. 
In contrast, Naamani was CTO of a payroll company when he discovered the potential power of blockchain:
"The product research and definition for the engine behind our community empowerment and mobilization really excites me. The more I dive into the ins and outs of individual vs. group decision making, bias identification, inclusion and opinion crowdsourcing, the more I get excited about the possibilities and the challenges out there."
Even as a startup guy, Alazraki says he was surprised by the opportunities blockchain presented:
"Like many others within the industry, I have been heavily focused on revolutionary technologies. As an example — I was already developing a complex healthcare product on Microsoft.net in its Alpha version for one of the largest hospitals in the Middle East. Blockchain really caught my eye in the last couple of years. The market for Bitcoin and Ethereum only climbed in popularity for financial transactions, the technology it sat on was not being utilized to its full potential. Blockchain potential is, of course, much greater than just financial but what brought me into this space was the scale of the Horizon State core idea and the opportunity to bring blockchain and crypto-currency to global use. Our goal is to disrupt, innovative and bring advanced yet-affordable and scalable solutions to large consumption."
At our CSW Global 2018 conference, Alazraki will be talking about two related topics: "Applying Agile Governance in a Decentralized World" and "Accountable Leadership in a Decentralized World".  It's a reflection of Alazraki, Naamani and the whole Horizon team's commitment to transparency. Alazraki shared more in a recent Q & A with us: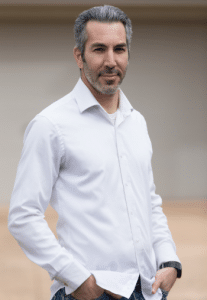 "We are currently working with prospective customers and partners to develop an engagement framework whereby trust, transparency and the process of obtaining constructive opinions are coded into the platform and not just enforced by way of good process. When engaging customers we typically conduct a socio-economic benefit analysis to measure the positive impact when evaluating our technology. Our goal is to provide accountability and transparency for citizens and communities to deal direct with community leaders, NGO's, councils or governments on important matters such as policy, budget, elections, taxes, political donations, rates, fundraising, social challenges and endeavors."
You can catch Horizon State's Alazraki and many other technological and thought-leaders in the crowdsourcing sector at next week's CSW Global 2018 conference, October 24 – 28 in Washington, D.C. The main conference days are October 25 and 26. Here is a full agenda and a few tickets still remain available including Full Access passes and Team Passes for three delegates.