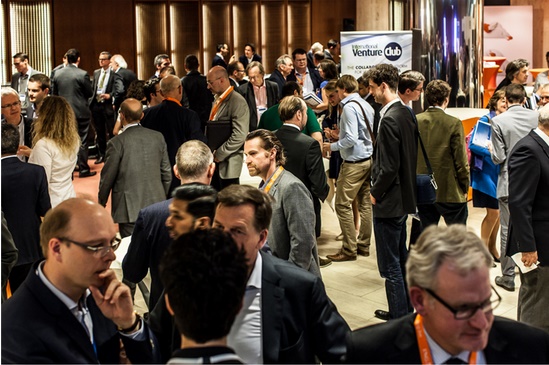 Crowdsourcing Week is excited to announce confirmed speakers and agenda for Day 5 of CSW Europe 2015: The European Forum for Entrepreneurial Finance on October 23.
The forum will discuss the 'New European Investment Landscape,' with the special participation of the European Vice President for the Jobs, Growth, Investment and Competitiveness, Jyrki Katainen, who will deliver the opening keynote. The Forum is part of Crowdsourcing Week 2015 and is co-organised by Europe Unlimited, InvestHorizon and PME Finance.
Crowdsourcing Week Europe (#CSWEurope15), taking place in Brussels from Oct 19-23 will culminate on Friday, October 23 with a special invite-only European Forum for Entrepreneurial Finance in conjunction with an open-for-all growth fair for crowdsourcing thought leaders, influencers, and entrepreneurs. Attendees will meet and hear from 30 speakers and crowd finance practitioners, and 70 invited European ministers – national and regional – and policymakers on topics related to the financial and investment landscape in Europe.
European Forum For Entrepreneurial Finance, Oct 23
By Invitation: 8:30 am – 2:00 pm
This invite-only forum aims at stimulating European entrepreneurship and investment in European SMEs, facilitating cross-border financing and single market for investment, promoting best practice financing and growth initiatives from across Europe, and providing information to stakeholders and entrepreneurs about available financing options.
The agenda for the day includes keynote presentations, panel discussions on how the Juncker Plan will meet its objectives, how the Capital Markets Union can foster investment in small-medium enterprises and other alternative financing strategies in fintech, crowdfunding, peer-to-peer lending, and corporate venture. Up close, here are the speakers and panelists:
Stanislas de Bentzmann, President of Croissance Plus
Herman Daems BNP Paribas Fortis & KU Leuven Chairman of the Board Belgium
Uli Grabenwarter, Deputy Director of European Investment Fund (EI)
Eric Forest, Chairman and CEO of Enternext (Euronext)
Arnaldo Abruzzini , Secretary General of Eurochambres
Adam Kostyal, Private Markets Head of European Listing of NASDAQ
José Zurstrassen, Executive Chairman of MyMicroInvest
Jean Rognetta, President of PME Finance
Susannah Haan, Secretary General of EuropeanIssuers
Candace Johnson, President of EBAN
William Stevens, Founder and CEO of Europe Unlimited
Oliver Gajda, Executive Director of European Crowdfunding Network 
Philippe Vanrie, Managing Director of EBN
Minh Tran, Managing Partner of AXA Ventures
For more details and to request an invitation, you can visit European Unlimited official website. 
Fair for Entrepreneurial Finance and Growth, Oct 23
Open to the public, free admission: 10:00 am  – 5:00 pm 
In conjunction with the Forum, a 2000m2 Fair for the Entrepreneurial Finance and Growth is being organised for the participants to network, collaborate, and cross-fertilize ideas at the European level in reverse pitching, workshops, and One2One meetings. The fair will be a hotbed of financial and investment discussions on how to beef up the current landscape, and discussions of the trends, analysis and plans for the future. European, national and regional networks will present their initiatives and showcase new European investment tools for Entrepreneurs, with a focus on the development of alternative funding means for SMEs and on what European Institutions are doing in this field.
For more details, you can visit European Unlimited official website. 
Entrepreneurial Finance Matchmaking at Crowdsourcing Week, Oct 23
Registration Required: 10:30 am – 5:00 pm
Entrepreneurial Finance Matchmaking at  Crowdsourcing Week Europe 2015 offers business opportunities between European SME's and investment companies to facilitate cross-border financing through a unique matchmaking event that will take place at the European Fair for Entrepreneurial Finance 
For whom?
All entrepreneurs and leaders of startups and innovative companies
VC's, Business Angels, Investors, Crowdfunding platform 
The confirmed speakers are from the European Commission, the European Investment Bank, Croissance Plus, BNP Paribas Fortis, the European Investment Fund, Euronext, Eurochambres, NASDAQ, EBN Innovation Network, the European Crowdfunding Network, EBAN, MyMicroInvest, AXA Ventures, European Issuers and among others. 
Register for the matchmaking event.
CSW Europe is a weeklong conference on the new digital and crowd economy taking place in Brussels from Oct 19-23, 2015. Get more information on CSW Europe 2015 tracks and the full list of speakers on the conference website. Follow the action in the lead up to the conference on social with the hashtag #CSWEurope15. Register now.