What an amazing experience! Let's remind ourselves why we chose Sweden. In the weeks prior to CSW Summit Arctic Circle on March 15-19 we looked at some of the business sectors where Swedish ingenuity and entrepreneurship has created world-leading disruptor brands and spearheaded citizen engagement on a mass scale to explore solutions to social, commercial, industrial and sustainability challenges.
During three days of presentations, panel sessions and audience collaboration – opened by Niklas Nordström, the Mayor of Luleå, who has been instrumental in the city's transformative growth and new economic opportunities – the speakers, delegates and organisers shared and debated an astonishing array of ideas and projects based around crowdsourcing and the crowd economy models.
Those who took part in the optional weekend of outdoor Arctic Circle activities further realised the importance to communities in harsh climates and terrain of sharing resources and effort for everyone's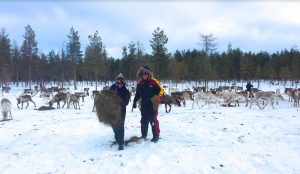 mutual benefit. To prosper in such conditions has required high levels of stakeholder engagement in win-win solutions that serve as an example to wider communities throughout the world which face their own escalating challenges arising from perceived shortages of resources and harm to the environment. The experiences included dinner hopping (different courses served in different venues), meeting Sami reindeer herders, snowmobiling and dining in a Sami tepee.
Digital interconnectivity of billions of people allows and encourages new ways to find solutions and to in fact create a world of greater abundance. Here we highlight some of the initiatives that were featured at CSW Summit Arctic Circle 2017 under broad themes of Innovation, Sustainable Energy, Sharing Economy, Entrepreneurship and Smart Cities.
Innovation is something that perhaps people ought to consider every day as a way to work and develop ideas, rather than it be seen as a job function or the role of a specific team, so in that respect we effectively saw innovation in everything that was presented and discussed.
A true inspiration to innovate was delivered at the first evening dinner in Vetenskapens Hus when Tim Linhart, the creator of Ice Concert, brought his example of making the impossible possible through pushing the limits and crossing preconceived boundaries. Tim, originally from Colorado, showed us how he makes musical instruments from ice! He also organises performances, though unfortunately for us an outdoor concert couldn't take place as the temperature was too high which would have caused the instruments to melt. That's certainly something no other musical instrument maker has had to consider.
Carolina Salazar, founder of Design Thinking Institute, informed us design thinking is a process that optimises an organisation's structure with a customer-centric focus to create deliverable yet creatively disruptive products and services that resonate with key audiences. Carolina described three types of design thinking, which can include open innovation techniques for end-users to contribute ideas based on their user-experience.
From the Energy sector we heard from Svante Axelsson of Fossil Free Sweden about Sweden's aim to invest more in renewable sources of energy and ultimately completely end using fossil fuels. It will require support throughout the whole Swedish population, commerce and industry, and includes efforts such as current research in to burning hydrogen rather than fossil fuels to make steel. This process produces water as a by-product rather than carbon dioxide. Then items such as Uniti electric cars, pioneered by Lewis Horne with crowdsourced design features and crowdfunded equity investment, will be able to roll off a production line, manned by robots, that has a much lower carbon footprint. In the meantime, we were given an insight in to the pursuit of renewable energy sources by Per Holmkvist who is establishing a Solar Farm in Luleå.
Several examples of organisations founded on the Sharing Economy model were experienced at first hand in the Summit's second location in the village of Vuollerim, a community with living examples of community crowdsourced businesses. The hotel everyone stayed in has over 150 owners, and there were more than a dozen other examples that have developed the local economy, improved local services and encouraged younger adults to stay. This involved establishing Vuollerim as a tourist destination. All the crowd-based companies reinvest their profits to continue growing the local economy and continue to offer employment opportunities.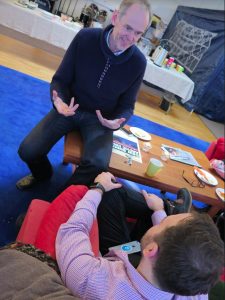 Throughout the summit Thomas Norrby (pictured), a continuing education specialist from the Swedish University of Agriculture, conducted interactive COLAB sessions. As a Summit legacy the outcomes of these sessions will be the basis of a "White Paper" that will be a living, working paper for the future.
There were examples of both Swedish and international entrepreneurship. Indian entrepreneur Samar Singla explained his latest venture, Jugnoo, an Uber-like app that puts passengers in touch with vetted auto rickshaw drivers. Fare payment is possible through the app, and Jungoo also provides a food delivery service. On the domestic front, Michael Stenmark, Founder and President of Arctic Game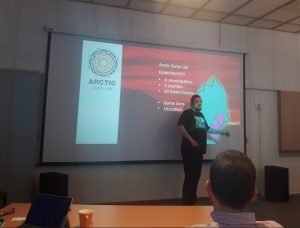 Lab, brought the entire meaning to games by showing how the gaming industry has benefited from crowdsourcing and how these activities are interlinked. Arctic Game Lab's objective is to create and nurture a strategic platform for the gaming industry in northern Sweden. The industry attracts capital, partners and competence. Their success contributes to more attractive cities and regions. Quality and competence are key to continued development of this industry and are why it is important to develop education for this sector.
Whilst there remain plenty of people who believe entrepreneurship is an inherent talent that can't be taught and learned, the process of observing and disseminating best practices as guidelines is important. And isn't this education? Gabriella Lönngren and Louise K Larsson, both partners at the Common Good Academy, explained the concept of self-leadership they encourage as a starting point of entrepreneurship.
Anna Ståhlbröst from Luleå University of Technology shared the story behind Botnia Living Lab that contributes to Smart Cities. Through mass personal interconnectivity Living Lab uses information and communication technology (ICT) to help commercial partners as well as local and regional authorities conduct idea-generation with end-users to establish new innovative solutions. This speeds up the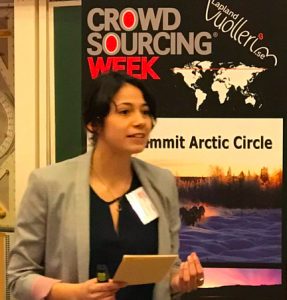 innovation process and enables citizen engagement with authority decision-making. Also, Victoria Bengtsson (pictured) presented the story of The Foodprint Lab Architects. This is a group of Swedish architects who offer educational and inspiring events and services focused around the circular economy, urban farming, climate adaptation and greening cityscapes. They encourage growing food in some sometimes unlikely places in cities, which improves the urban environment and if taken far enough could reduce the amount of food that has to be shipped in from elsewhere.
In adittion to the stimulating presentations and discussions, delegates will find it hard to forget Friday evening at the crowd-based Hotel Vuollerim Gästgiveriet with good food, good people and local villagers who gave a great, spontaneous performance of local songs unaccompanied by any musicians.
To close, we want to thank the municipality business growth organisations Luleå Näringsliv, and its leadership by Matz Engman, and Jokkmokks Strukturum with Ulf Hägglund. Their early action to support the development process of this Summit was vitally important. We are looking forward to their further contribution and their understanding of how Crowdsourcing will be important for the long term development of a regional crowdsourcing platform in Norrbotten.