The Lion City, 47 years ago separated from Malaysia and gained its independence to become the Republic of Singapore. And its planning an incredible National Day Parade (NDP) to celebrate.
A Brief History
Singapore has a rich history. The southeast asian city-state can be tracked back to the second century AD, when it was an outpost of the Sumatran Srivijaya Empire. Since the second century Singapore's history is peppered with key historical events:
1819 — British East India Company developed the southern part of Singapore as a British trading post
1836 — Singapore becomes the capital of the Straits Settlements
1955 — Singapore held its first general election
1963 — Singapore declared its independence from Britain
1965 — Singapore declared its independence from Malaysia
And today Singapore is a thriving economic power. With a population of over 5 million people. Most speak English but you will find that many Singaporeans are bilingual — speaking Mandarin Chinese, Malay, Tamil or Singapore Colloquial English (Singlish).
Today
The Republic of Singapore is made up of 63 islands. And the city-state has become an influential world-power:
the world's fourth leading financial center
one of the busiest ports in the world
has one of the highest percentages of millionaires in the world
Due to the high volume of urbanization Singapore's rainforests have suffered. The Bukit Timah Nature Reserve is the only significant remaining forest. But through land reclamation Singapore is adding more land. These land reclamation projects involve merging smaller islands.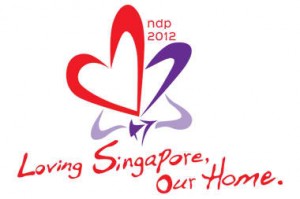 Happy Birthday
As you can see the Lion City has a great deal to be proud of. Over the last 47 years — Singapore has matured into an incredible melting pot of culture and business.
And on August 9th 2012, Colonel Desmond Tan — Chairman of the NDP 2012 Executive Committee (EXCO) — is encouraging all Singaporeans to reflect and express their love for Singapore. This year, Singaporeans will come together at The Float at Marina Bay, to celebrate the countries 47th birthday. The theme for the National Day Parade (NDP) 2012 is "…to love and respect Singapore."
The National Day Parade will be host to a numbers of events:
Reflection of Our Love
Reflection of Our Spirit
Message from President Tony Tan Keng Yam
A Nations March
And many more exciting events will be taking place throughout the day. There is even a NDP 2012 Theme Song – Love at First Light. Which really sets the tone and capitalizes on Colonel Desmond Tan's message.
We Are Proud
As many of you have already heard Crowdsourcing Week is now headquartered in Singapore. Our founders thought that Singapore was the perfect place for a start-up to not only grow but flourish.
I am biased.
But our founders — Epirot Ludvik and Rose Kemps — were right, Singapore is a great place to build a company like Crowdsourcing Week.
Happy Birthday Singapore!  Here is to another prosperous 47 years.