Did you miss CSW Europe 2015? Find the recap for day 2, day 3 and day 4 here. To give you a taste of the action from the conference, we bring you the highlights of live polls, surveys, and questions during the conference, in cooperation with Wooclap, a user-friendly tool for live audience engagement.
Wooclap is an online app that can be used in meetings, live events and even classrooms to create a more interactive atmosphere between the speakers (or facilitators) and the audience. We found that the app comes with a bundle of features to gain instant insights through surveys, polls, and feedback from the audience.
Through a web-based interface on Wooclap, with no login needed, audience were able to give real time responses to surveys and pose questions to speakers. At CSW Europe, our speakers took advantage of the instant poll feature to ask the audience a number of thought provoking questions. Take a peek.
Here are the top 7 picks:
On equity crowdfunding, 27% said they'd invest on Information Technology.
On mobility, this is a tie. How about you? Are you willing to give up your car and become debt free from mortgage?

When asked if they're worried on the rise of crowd economy.

41% thinks shared values and a sense of belonging plays a major role in a smart community. 31% says there should be strike the balance between online and offline interactions.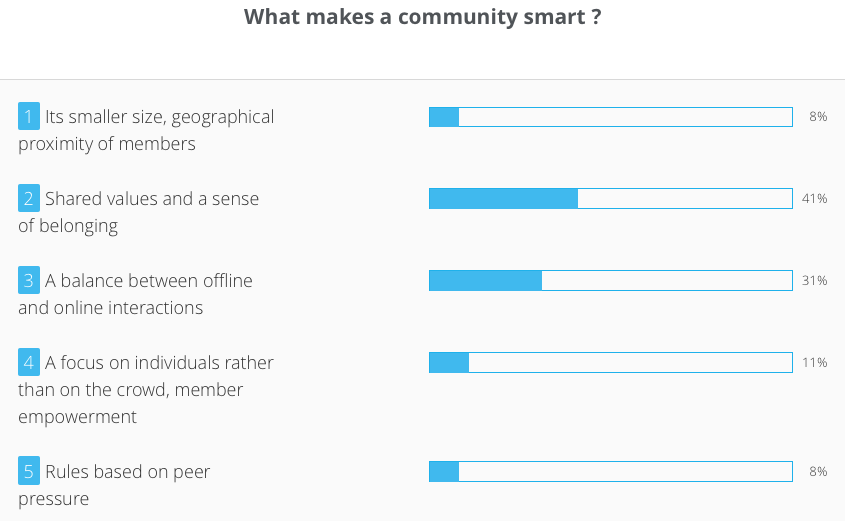 On platforms and systems: 85% wants a distributed system.

Guess what's the currency in the future of crowdfunding? Not money. Not Bitcoin. And it starts with letter T.

And on customer co-creation, businesses feel this way until now.

We would like to thank the Wooclap team for making this possible. Check out the official website for more information. Create an account now and start engaging with your audience.