Almost two years ago Peter Diamandis, the entrepreneur perhaps best known for being founder and chairman of the X Prize Foundation, wrote his prediction of seven business models that will capture and dominate the 2020s. At the top of his list was the Crowd Economy. Crowdsourcing, crowdfunding, initial coin offerings (ICOs), utilisation of existing though under-used assets, and access to staff-on-demand for both menial microtasking and specialist requirements, have disrupted many business sectors and leveraged crowds within the billions of people with online access. He tipped the crowd economy to be a business model of the decade.
A look at previous recent history shows business models were remarkably stable. A few key ideas dominated somewhat consistent group thinking, with a few major variations ringing the changes. Things have sped up, a lot. A 2016 study by McKinsey found that in 1958 the average life-span of companies listed in the U.S. Standard & Poor's 500 was 61 years. By 2016 it was less than 18 years. Yet some contemporary developments are not too far removed from historic precedents. 
The "bait and hook" business model pioneered in the 1920s lures customers in with a low-cost initial product and then forces them to buy endless refills, and it continues today. Home printers from any of the big brands are sold at a low price, often quickly exceeded by just a few ink cartridge refills. Razor blade subscription services tie customers in on a longer-term basis than the frequency of shopping trips to a supermarket or pharmacist. DSLR camera manufacturers make a lower yield profit on selling camera bodies than they do on the changeable lenses once a photographer has committed to their brand. It was all about building a crowd, and a hundred years on it is even more important. In this age of digital personal connectivity, a crowd is the world's newest super power!
Today's Crowd Economy Business Model
In the 1950s, McDonald's pioneered "franchise models." They used the energy and enthusiasm, and money, of people building a personal business to meet startup costs, handle staffing and manage premises, and grow the franchisor's brand in the public's perception.
Seven decades later, there are more than just echoes of the franchise model in the crowd economy. Franchisors previously provided goods to sell, and professional training to do so. Franchisees found premises, paid their startup costs, and hired and managed staff. Today's crowd economy businesses provide app-based services that deliver access to a customer base. The gig-economy workers who accept transactions through the app provide rides in their own cars, or accommodation in their own properties. They can rent out their appliances, clothes, their driveway as a parking space, or high price items such as yachts.
This has enabled crowd economy businesses to scale at speed: they don't need to acquire assets. The crowd economy startups create an interface to connect owners of what's already out there, which represents under-used or overlooked capacity to provide a service, with people willing to pay for access to them. Airbnb has a higher stock market value, currently about $115 billion (in December 2021), than the Hilton, Marriott and IHG hotel groups combined – and it doesn't own any hotels. 
The crowd economy accommodation sector continues to grow. Marriott partners with home rental firm Hostmaker to offer rentals through its Tribute Portfolio Homes; Choice Hotels' Vacation Rentals business began offering private residence, cabin, and resort-style accommodations; Wyndham Hotels has an extensive vacation rental business that is pretty much a direct competitor to Airbnb. Not tied to a hotel group, GoGoPlaces offers longer-term rental opportunities to vacation-location property owners in shoulder and closed season periods.
The Crowd Economy in Other Business Sectors
With high profile examples and a new business model to follow, there is an abundance of new crowd economy businesses. Personally-owned women's clothing and accessories are rented through peer-to-peer fashion platforms such as Hurr. It not only helps people look good, it makes them feel good by making fashion more sustainable and circular. By Rotation is another peer-to-peer "lend and rent" clothing platform.
The LOANHOOD platform is a new market entrant in the fashion "lend and rent" sector. In September 2021 they even used other people's money to fund launching their app to make money out of renting out other people's clothes. They raised almost £15,000 through a donations crowdfunding campaign.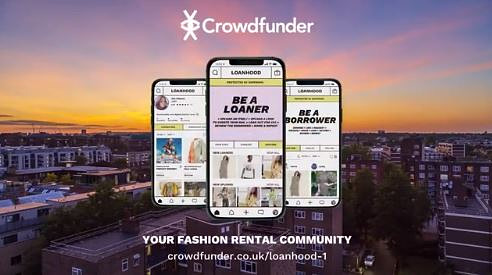 Sparetoolz is a U.S. peer-to-peer lend-and-rent platform that covers do-it-yourself tools. For the people who own them, they spend most of the time just taking up space. For people who want to use them it's cheaper than going out and buying their own.
Borrowaboat provides the same type of service for P2P yacht hire. The platform establishes the sailing capabilities of the people who want to do the hiring, the integrity of the boats being rented out, and facilitates transactions. They have used several rounds of equity crowdfunding, in which they traded part-ownership in exchange for working capital to grow the business.
There's even a platform for dog owners to have their pets exercised or kennelled at vacation time by people who'd love to have one of their own and are willing to pay for the pleasure, BorrowMyDoggy. This platform also used crowdfunding.
Put your driveway to work when you're not parked up in it yourself. JustPark has a UK network of 45,000 space owners earning thousands of pounds from their driveways by connecting them with 5 million motorists who look for parking spaces. They raised their early investment cash through equity crowdfunding.
Where things do differ in the 2020s is that facilitating business through an app avoids the need for centralised gatekeepers to control the processes. Peer review systems keep providers and consumers on best behaviour, or they are excluded. Payment systems are automated. The crowd economy platforms vet the providers to maintain the quality of service provided. It's a self-policing business model, which means transactions can occur anywhere that local laws allow. App-based businesses epitomise decentralisation.
Crowdfunding
Businesses with no trading history, with a novel business model that cannot be compared to existing competitors, or without a forward order book, fail to meet bank lending requirements. Or even the lending requirements of P2P lenders. Where the sums involved are too small for VCs to be interested, crowdfunding has established itself as a viable means for startup entrepreneurs to turn dreams to realities. U.S. private companies can now raise up to $5 million.
Global market size of crowdfunding worldwide in 2020 with a forecast for 2027

(in billion U.S. dollars)
Bank loan restrictions introduced after the 2008 banking crisis strangled the money supply for startup businesses. Indiegogo and Kickstarter both started in 2009 as a means for creative arts projects to raise funds through donations from crowds of supporters; it was the start of online crowdfunding. In the UK, the first equity crowdfunding platforms launched in 2011 and 2012, enabling private businesses to offer equity – rather than products – to raise funds.
Benefits beyond simply raising money are well documented. Important ones are to generate feedback, de-risk a first production run, and build a crowd of supporters with a vested interest in a company's success. 
Crowdfunding is also used increasingly by corporations to test customer reactions to limited volumes of new products before they gear up for a full production line. High profile users include Sony, Philips, LEGO and CocaCola. 
Work opportunities in the crowd economy
Beyond lending and renting assets, the crowd economy also enables people to monetise their spare time and skills, and for platforms to provide access to on-demand workforces. Anyone can start a side income as a freelancer. We have previously covered this subject in more detail, so let's quickly recap.
Platforms including Mechanical Turk and

Swagbucks

 

post largely menial microtasks that can be completed in just a few minutes by people who do not need to have any particular skills.

Design work can be put out to freelance workers through platforms such as 99designs and Fiverr

Many companies are investing in speech technology to provide a better customer experience. They require vast speech databases to be recorded, checked and annotated to train their AI-based systems. Much of this data is generated through crowdsourced contributors, such as the Neevo platform operated by Defined.AI. 

Cybersecurity is an expensive in-house resource. Many corporations rely on platforms such as Synack which provides an on-demand service delivered by crowds of "ethical hackers." They are sourced and signed up around the world to deliver a 24/7 service. Many of these white-hat hackers already have fulltime jobs in IT, and find that  searching company websites for weaknesses accelerates their experience and skill development. 

Crowd analysis of image data in sectors such as medical wellbeing and

space exploration

is vital to train AI systems to do the work. Then it is possible to automate checking and categorising many times more images much faster than a human workforce would ever be able to cope with.
The impact of these developments is hard to accurately measure. What employers the world over know is that right now it is harder to fill vacancies than before Covid lockdowns. People found other things to do, whether that had to be an alternative income or to fill their time while on furlough pay. Job vacancies are at record highs, yet the numbers of people registered as unemployed does not meet the gap. Significant numbers of people are doing something else, hybrid jobs.
Where is the Crowd Economy going?
A Creator Economy
Changes to workforce behaviour is one indicator of how the crowd economy is changing lives. There is a visible trend for people to want to make a living out of their passions, rather than pursuing a career that makes them secondary to prioritising somebody else's business aims. Up to 29% of American students no longer aspire to be a banking, legal or medical professional. Many  would rather become creators, earning a living from what they love doing and living anywhere they choose to do it, with full autonomy over their daily agenda. A "Creator Economy" is perceived to be a route to greater personal happiness and less stress.
There appear to be plenty of options, involving writing, cooking, photography, creating art, making music, online exercise classes, podcasts about any topic, and so on. Though finding something you're good at is just the start, before the heavy lifting of building a crowd and then monetising your output. NFTs could be a real game changer, with some early adopter independent musicians now earning far more than Spotify's measly payments. Though in a wider context, there's little infrastructure or social safety nets built for this type of work in which some people effectively take themselves off-grid. Some would-be creators can end up facing mental health challenges or burnout. In the meantime, other people have taken those jobs in law, medicine and banking.
B Corps
At a more corporate level, heightened awareness of the global climate challenge has also led many people to question the basic concept that to impress investors and stock markets, businesses should always aim to grow. This creates a race to use resources that could eventually exhaust them, or produce harmful consequences. 
More businesses, notably in the crowd sector, are adopting B Corp business model status. This allows them to pursue other aims than a legal requirement under C Corp rules to solely maximise shareholder value. Consumers, and investors, will increasingly examine company sustainability credentials before making some form of financial transaction. Let's not overlook the appeal of B Corps to future employees as well.
Crowd currencies
Further decentralisation in the crowd economy takes the form of creating and adopting its own currencies through initial coin offerings (ICOs). The creation, buying and selling of NFTs strengthen crypto's role as a transactional tool, though many more people treat it as an asset and hope to enjoy stellar returns on their investment. The doom-and-gloom spreaders, the supporters of the traditional banking and finance sector, continue to equate the appreciation of crypto values to the Dutch tulip bubble of the 17th century. That particular crash was the result of people borrowing to buy bulbs. A drop in trading value would alarm the speculators who then needed to sell fast to hopefully still cover repayment of their loans, amplifying the market price movement and driving prices down further.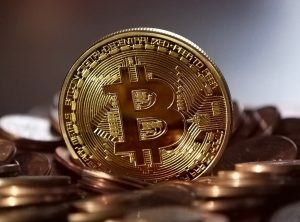 The crypto situation is that one government, El Salvador, has adopted it as a national currency. Others are wondering what to do. National banks have been increasing the money supply to soothe the negative impact of the Covid, reducing the purchasing power of many fiat currencies and undermining confidence. The existence of alternative currencies outside of their control, is a real concern. Maybe the solution is for them to create their own hybrid?  In April 2021 the UK government and the Bank of England began exploratory work on a potential central bank digital currency (CBDC), immediately nick-named a Britcoin.
Crowdsourcing improved social cohesion
Being part of a crowd can encourage people to speak up, to make their voice heard. The power of a crowd is therefore more than the sum of its individual parts. It can be harnessed to deliver positive change, or maybe to reinforce something that appears under threat – like social cohesion. 
Mainstream media now often explore the negative effects of social media giants keeping people online longer through feeding us more extreme versions of sentiments we appear to agree with. The effect is to polarise groups of people with different views, and hollow out the middle ground where compromises are found.   
The U.S. Stanford University used an online challenge format to launch a joint project between academics and practitioners. The aim was to "crowdsource and identify short, scalable interventions to reduce anti-democratic attitudes, support for partisan violence, and/or partisan animosity among Americans." 
Many people have ideas for how to address these problems, but until The Strengthening Democracy Challenge there hadn't been an opportunity to gather and rigorously test many of these ideas. Submissions have closed, and will be checked by a multidisciplinary team of social scientists, political scientists, psychologists, sociologists, and economists from Stanford University, MIT, Northwestern University, and Columbia University. A number of cash prizes will be awarded to entrants with the best ideas. The final winner will be decided by the results of real time implementation of the finalists' ideas.
BOLD Awards III
Crowdfunding, Crypto, Cybersecurity, Marketplaces and Design are five of the 20 categories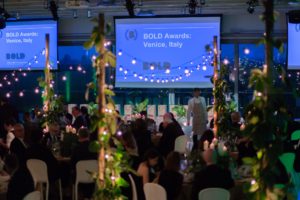 in the annual BOLD Awards for digital industries, now in its third year. The aim is to source and share stories of individuals, companies and organizations – large and small – from all over the world who are managing crowd-related projects and initiatives in a way that really powers breakthroughs. If that includes you, then enter NOW!
A round of public voting in January 2022 will shortlist projects that go before an international judging panel, and winners will be announced and receive their award at a gala dinner ceremony hosted by the innovation hub H-FARM at their campus in Venice, Italy. Would you like to be there on April 22, 2022?