The theme of Day 4 at CSW Europe 2016 in Brussels was Energy & Sustainability.
Crowdsourcing Week's CEO Epi Ludvik Nekaj opened the day and set the scene for a day's presentations and discussions on crowdsourcing in the energy sector. For reasons explained shortly, we need an energy transition away from reliance on fossil fuels, a 'dig and burn' industry, to a market that uses more renewable and sustainable sources. How easy or difficult will this be to achieve, what are the opportunities and the challenges?
To prepare this day several influencers in this business sector worked hard to put together a White Paper which you can download here. We would really appreciate your feedback and input to continue developing a broad cross-section of opinions on an iterative basis.
Andy Ridley of Circle Economy, whose mission is to is to accelerate the practical and scalable implementation of the circular economy, spoke on Using the Power of the Crowd to Shape the Economy of the Future. Andy is the guy who started Earth Hour celebrating-earth-hour he has great credibility in this sector. Historically the energy sector has been a high investment sector with power held in the hands of few large companies. Reducing our energy consumption and substituting fossil fuel energy for renewables allows for a bottom-up decentralisation of the market, and the crowd – you and me and all of us – can take action to pressure the big providers, and policymakers, to change faster.
Here's why transition is needed. The Paris Agreement signed last year by 195 countries aims to restrict global warming to 1.5C. The measures implemented by these national governments will deliver 40% of the required carbon emission reduction. Energy transition from fossil to renewable sources, and greater efficiencies, will fill half the remaining gap. This leaves a 30% shortfall which requires crowd action at an individual level.
However, there is a lot of consumer apathy. On average each person spends just 9 minutes a year considering their utility suppliers and how much they are paying. Agreement with an emotional case for protecting our planet seldomly translates through to taking action. Vincent De Dobbeleer defined this as the Motivational Gap. His company June aims to fill that gap through providing a service to monitor a households power usage and patterns and recommend the most appropriate of over 100 power tariffs offered by 20 power providers in Belgium. He hopes ease and excellent customer service will provide the motivation to switch.
In a similar fashion, Ecoyo is a company that empowers consumers by connecting them with smaller green energy producers. We heard from Frank Vemeulen and Nicolas Verstraete, who also pointed out difficulties with power distribution as well as production. Individual electricity prosumers (the produce as well as consume) are in most cases prevented from making their power available to local neighbours. They have to sell it to a big power company which adds it in to all the rest of its supply, rather than distribute it locally though a micro-grid.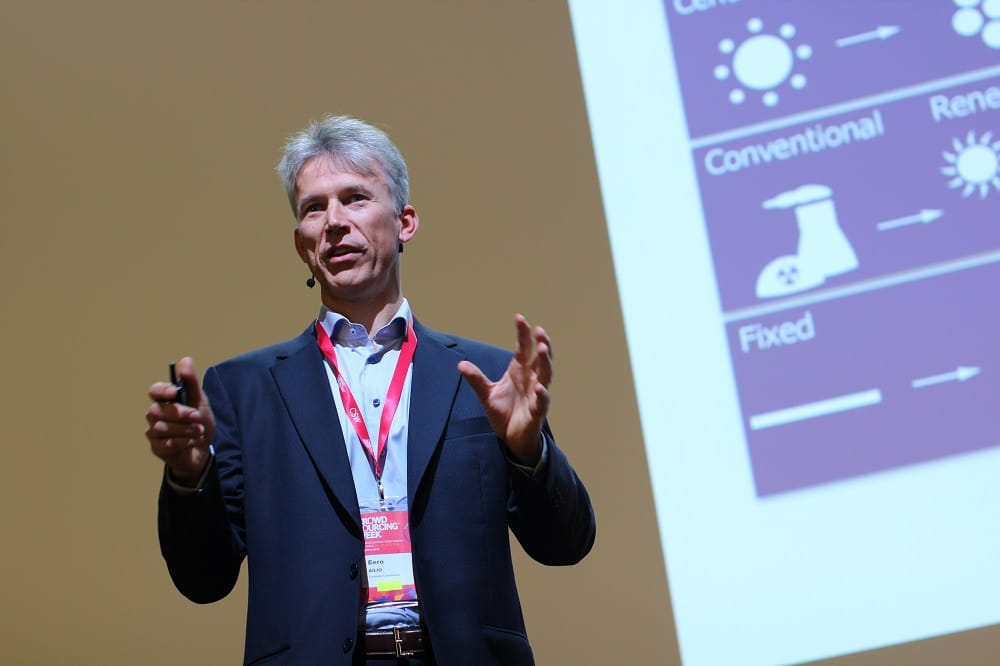 The policymaker position was represented by Eero Ailio, Deputy Head of Unit (Internal Market: Retail Markets Coal and Oil) at the Directorate-General Energy at the European Commission. The EU is very busy in this area updating legislation introduced 2007/8/9 to meet new objectives based on latest information on issues including greenhouse gases, energy efficiency and the Paris Agreement: new legislation will be required to empower the crowd with energy autonomy to contribute to meeting the aims of the Paris Agreement.
Consumer actions the EU wants to encourage include switching suppliers more often to let the market dictate to the producers, prosumer generation of renewable power (there are different laws in EU member countries), and even getting paid not to consume power.
They also have a social responsibility to protect the most vulnerable people from predatory pricing: energy bills take an increasing proportion of the people on lowest incomes. And they are trying to work out what to do about micro grids that some national governments don't allow.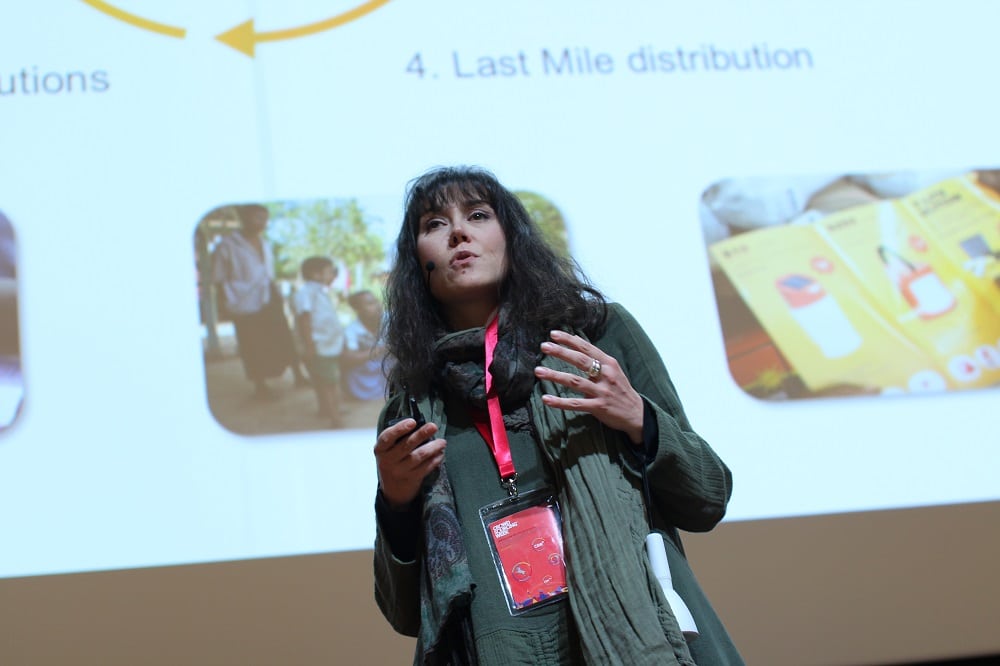 A view of the energy sector from the perspective of markets that don't have easy access to it was given to us by Ariane Delalande and Charlotte Geoffray of Total SA. Their presentation was titled Awango by Total: Solutions to Improve Access to Energy. Awango is an initiative to market solar lamps providing affordable access to energy for communities in emerging economies. They created a micr-lending system with Babyloan for people to borrow the money to acquire equipment for generating solar energy, and equipment to run on that power. This enable people to set up businesses and the loans are usually repaid within 6 months meaning from then on the purchasers have no-cost energy. To date Awango has supported 9m people in 38 countries.
Access to electricity in the poorest areas helps reduce deforestation. Environmentally-driven Marie Noelle Keijzer of WeForest presented on Crowdsourcing for the Climate: Why Trees are the New Currency. The carbon emissions already released in the atmosphere will have a lingering effect for years. This means an energy transition based on renewable energy and increased efficiencies alone will not be enough. The planet needs more trees, they are the lungs and the water cooler of the planet.
The way that trees are a new currency is that many companies support reforestation as part of their corporate social responsibility. Some plant trees in line with sales figures, for example. They may seek to ultimately gain a commercial advantage through their action, but why not? Please look for and support these organisations, asks Marie.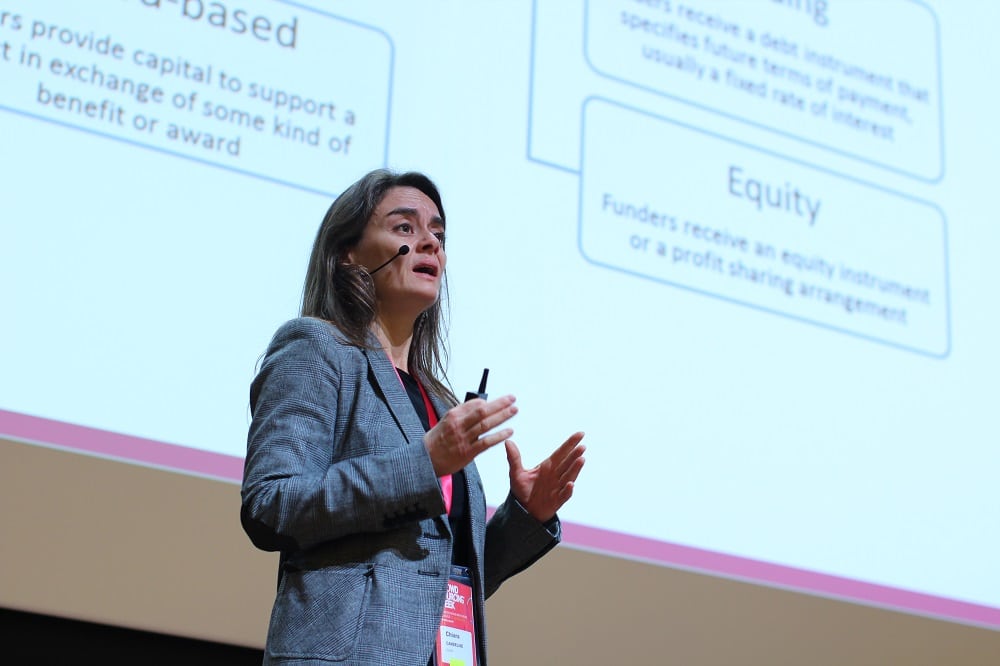 The market shift to energy decentralisation and renewable sources dramatically lowers the entry cost for new producers. However, investment to fund new energy initiatives and bring them to fruition can often be an issue, and Dr Chiara Candelise of Ecomill – an equity crowdfunding platform in Italy – told us about Smart Financing and Empowerment: Crowdfunding in Energy. Her global study of energy crowdfunding shows that 80% of the money raised has come from loans and equity. Crowdfunding renewable energy projects is a further way the crowd can stimulate this market and show their support for alternatives to the established major energy producers.
Another funding aspect is a blockchain currency, SolarCoin, that co-founder Francois Sonnet explained is used to reward and incentivise solar energy producers. 1 MWh = 1 Solarcoin, currently worth a cash value of 6 cents. SolarCoin has been recognized by IRENA, the International Renewable Energy Agency, as an independent tool for rewarding solar installation owners worldwide and the SolarCoin Foundation is also a recent new member of SolarPowerEurope.
Global challenges require global solutions, and Enrique Ramirez of Ennomotive told us how they crowdsource solutions to technical issues from a global network of engineers. 30% of the projects they handle relate to sustainability. One example was a project to help South American farmers where solutions were required to a) be able to check the level of solar power remaining in a storage battery, and b) how to extend the life of the power stored in a battery. The winning solution was a robust piece of kit that could be made with fewer than 50 parts and cost under $20. It also comes with a downloadable app to be able to plug a battery into a portable device for monitoring.