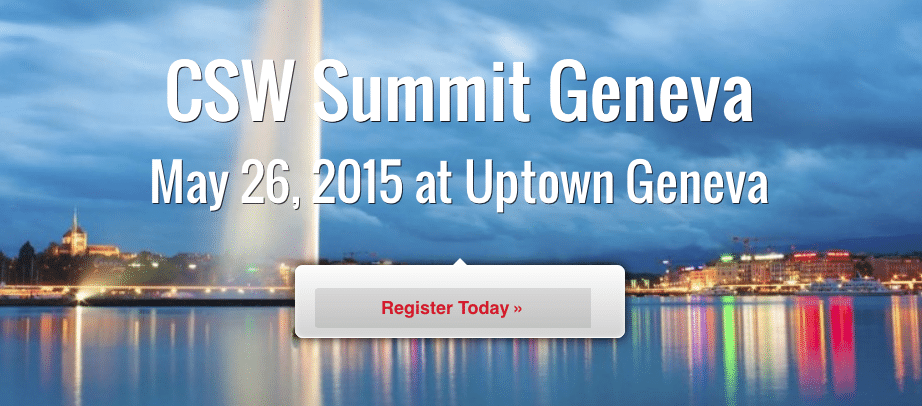 We're striking the iron while it's hot as we hit the road to Europe with a not-your-usual action-packed CSW Summit Geneva on May 26, 2015. International and Swiss top-notch speakers, crowdsourcing practitioners and influencers will share their insights on how the crowd economy can elevate organizations to the next level.
On the heels of a widely successful, CSW Global 2015, Crowdsourcing Week, a global platform for innovators in crowdsourcing and Catalyx, a world leading crowdsourcing platform that helps unlock the potential of crowds, will produce and host the CSW Summit Geneva in Uptown Geneva Rue de la Servette 2 on May 26, 2015.
More than 15 international and Swiss speakers, crowdsourcing practitioners and advocates will share insights, data, and actionable tips to help businesses and organizations understand the concept of crowdsourcing and the 14 parts of the crowd economy and how these open, transparent and collaborative paradigms can reinvent the way they operate and thrive in this century.
What to Expect at CSW Summit Geneva:
The summit will be an excellent opportunity to exchange ideas and knowledge with Switzerland's innovators and change makers.
There will be prizes, competitions and plenty of tools and techniques to ensure your networking is as targeted and beneficial as possible.
Open Innovation Colab sessions that is sure to give you a hands on feel of what it takes to engage crowds, both internally and externally.
A live scribe will capture the ideas flowing through the day in real time.
CSW Summit Geneva will beam via multiple social media channels all captured beautifully on Brandwatch's Vizia platform.
Everything you would expect from a Crowdsourcing Week Conference!
Crowdsourcing is a global movement, and we are hyped up to bring this action-packed summit to Geneva and take a deep dive into innovations that are leading the pack there – a must-attend for entrepreneurs, c-suites levels, start-ups, and non-profit organizers who would like to harness open and collaborative solutions.
Seats are limited and early bird tickets are sold out. Grab your ticket now to take your place at what we expect to a fantastic program. Get all the details on the CSW Summit Geneva agenda here and follow the #CSWGeneva on social media.