Q&A with Dyan Finkhousen, Director of Open Innovation at General Electric
While the idea of open innovation is still fairly new, there are an increasing number of initiatives and companies that are getting value out of their efforts with this new collaborative approach to innovation.
The idea behind open innovation is that it's impossible for any organization to have all the best ideas. Instead, outside expertise is needed to give innovation a boost, and sharing knowledge and experience amongst a diverse group can help tackle complex problems that cannot be solved alone.
One of the major organizations leading the way with open innovation and crowdsourcing is General Electric. GE understands that problem solving through advanced manufacturing techniques and processes requires collaboration with experts and entrepreneurs everywhere. Through its open innovation initiative 'GENIUSLINK™', GE aims to bring together the brightest minds around the world to solve the organization's toughest problems.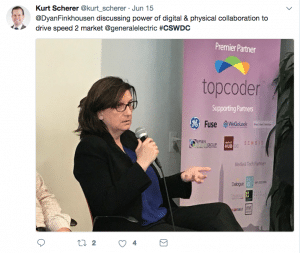 At our Crowdsourcing Week Summit D.C. in Washington last Thursday June 15th, GENIUSLINK's head Dyan Finkhousen explained how exactly GE's open innovation initiatives use the crowd globally to accelerate product and technology development. We managed to get her involved in a Q&A session to dive deeper into GENIUSLINK™ and their award-winning open innovation platform GE FUSE.
Read the interview transcript below.
Q: In GE's Open Innovation Manifesto, it says the organization believes openness leads to inventiveness and usefulness. Why couldn't GE have just employed people who it believed could develop inventive and useful ideas?
Dyan: In today's resource-constrained workplace, in-house teams are laser focused on critical priorities. Given such constraints, sometimes the in-house team may not have time to explore other solutions and opportunities. With GENIUSLINK™, business teams can leverage the power of the global brain to find solutions in unlikely places. This way, we can complement our internal teams with hundreds of thousands of solvers globally to make sure that we are finding the right solutions for our customers.
Q: What's the balance within GE of doing things the old and the new way, or has it been a total transformation?
Dyan: There is a balance. It is a complete culture change to move from traditional sourcing practices to using the crowd to solve business challenges. GENIUSLINK™ works with teams to identify when is (and is not) a proper fit for crowd-powering business. Using crowdsourcing, functional teams have the opportunity to tap into like minds across the globe and get a different perspective or boost their capacity to get business done.
Q: Did the idea for GE to adopt open innovation come from any particular management level or division, or did it develop more organically?
Dyan: GENIUSLINK™ was incubated in GE Corporate under the direction of GE Vice Chair Beth Comstock. This was a strategic experiment to see how and if open innovation and crowdsourcing techniques could be applied at GE—and how GE could harness the power of the crowd to augment quality, accessibility of information and speed to market. In a shift to scale, GE Global Operations assumed responsibility of GENIUSLINK™, further expanding the boundaries of how the crowd can fluidly provide resource and intellectual firepower.
Q: How much does GENIUSLINK™ mark a transformation within GE of a personnel shift from doers/producers to process controllers?
Dyan: GENIUSLINK™ provides GE employees—and its customers—the agility to supplement their doing/producing as well as process control. Open innovation through GENIUSLINK™—and the ability to access expertise on demand—still requires the know-how of sponsoring teams to both scope and engagement on the front end—and integrate the results at the back. That said, the option to source expertise, capacity and solutions through the process can significantly accelerate and optimize outcomes.
Q: With no longer working within a closed corporate structure, do the briefs have to be tighter to achieve the correct focus or looser to allow a more flexible response?
Dyan: It depends on the challenge and the team with which we're working. Challenges to identify a solution to a technical problem require much more detail than one that may be more of a creative nature. Our methodology allows for solvers to ask questions and seek additional insights as they frame their response(s).
Q: GE believes ideas should be compensated. Is that somehow linked to eventual revenue or profits for GE? Are contributors to the Fuse process driven more by financial reward or reputational kudos?
Dyan: What motivates solvers to participate in GE-sponsored competitions may vary greatly—and award strategies are designed to incorporate that. Across all challenges, award structures may include (but are not limited to) cash prizes, co-development opportunities, licensing opportunities, scholarship or internships, etc. For Fuse (launched by GE in October 2016 – fuse.ge.com) specifically, contributors are often driven by their passion for the project and honing their skills—as well as the opportunity to work with GE.
Not only GE, but many other iconic organizations such as NASA (read our Q&A with Amy Kaminski from NASA here), Facebook and U.S. Department of Defense have understood the power of the crowd to breakthrough ideas. In fact, some of the major advancements in technology in the recent years have come from approaching old problems with fresh perspectives from a diverse group external experts.
Join us at our upcoming CSW Summit // Seattle on Oct. 5th to discover the latest trends of crowdsourcing in the gaming industry, the latest developments in crowdsourced innovation, crowdfunding and blockchain enabled economy.