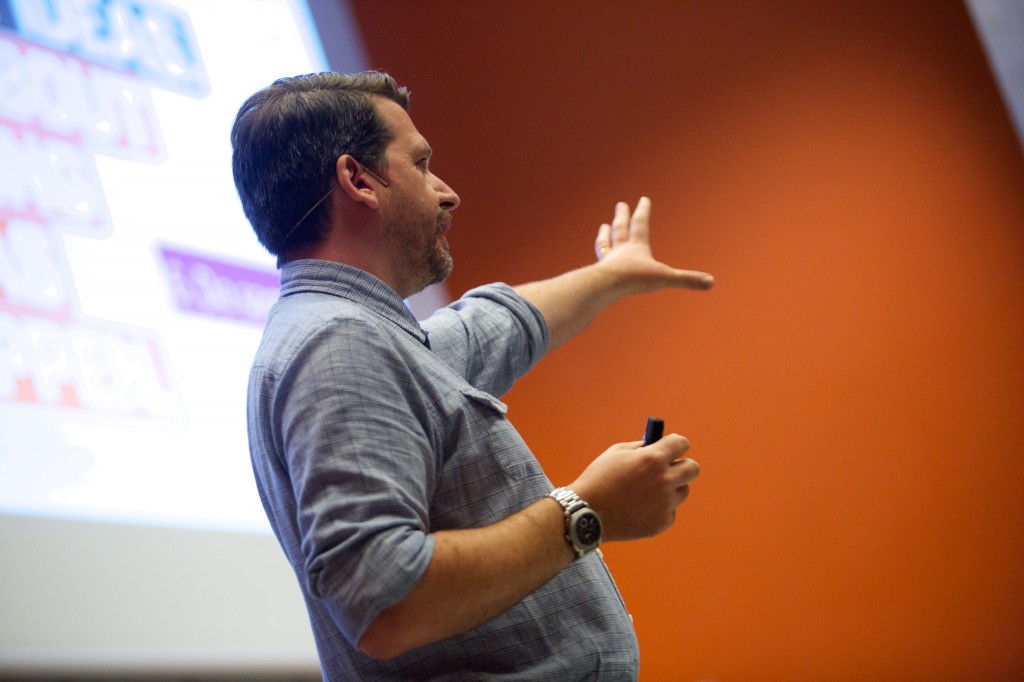 Photo Credit: Sebastiaan ter Burg
Last week in Copenhagen, Crowdsourcing Week Europe 2014 saw the brightest minds in crowdsourcing gather to discuss what's in store for the future of collaboration.
Here are some favorite quotes from the conference, crowdsourced with the help of our Young Achievers Program Fellows. The quotes highlight some of the major underlying themes and trends that surfaced at the conference across 48 sessions, breakouts, and panel discussions. Learn from them, share them, and discover where the era of collaboration is headed!
"There is a mental gap coming with our ability to engage with technology."
– Mick Walvisch, Assembl3d
Our mindset, business practices, and laws are astonishingly far behind the capabilities and growth rate of our technology. Mick Walvisch warns we will experience an accelerating mental gap in this environment that is increasingly tech push rather than market pull. Nurturing tomorrow's leaders and builders will be crucial for bridging the gap, argued Dr. Rajiv Vaid Basaiawmoit. It is today's students, the true digital natives, who will be the ones realizing the potential of this technology to change the world.
"Platforms are the offices/factories of the future."
– Ernesto Spruyt, Mobbr.com
It's not just industries or organizations being transformed by the crowd, but the idea of and approach to work itself. Some studies forecast that 40% of the U.S. workforce population will be freelance within the next 6 years, and it is the online work platforms facilitating this shift that are going to become the virtual offices of tomorrow. CSW Europe 2014 marked the official launch of Mobbr.com – the first and only crowd payments platform in the world, intended to create a fair and equal "social salary" payment system for online work.
"Mass collaboration is the future of competitive advantage in business."
  – Nick Wright, Crowdicity
Corporations and startups alike are adopting crowdsourcing and co-creation as the essential arm of conducting smart business. As David Denkker of Muuse puts it, "Crowdsourcing is a tool and not an end goal—it's our competitive edge." Troels Lange Andersen of LEGO broke down the pain points of adopting crowdsourcing as a corporation, as well as how it can be successfully integrated into corporate DNA for big wins: In fact, 99% of the LEGO content on YouTube is created by users, not LEGO.
"Crowdsourcing is an executive
—

not marketing

—

capability. It's something your CEOs need to engage in."
– Sean Moffitt, Wikibrands
"How important is it to have the CEO on board?" was a frequent question asked about how to integrate crowdsourcing as a part of an organization's standard process. For the collaborative mindset to take root and transform organizations from private, exclusive culture to an transparent and open one, it is important for executives to buy in, said Sean Moffitt, Wikibrands. There's also massive opportunity to crowdsource with your most important stakeholders – the internal ones. "80% of current workforce are disengaged with their jobs," said Shelley Kuipers, Chaordix. "What an opportunity to engage with your employees."
"You don't own your brand anymore. Honor the crowd's co-ownership of your brand."
– Shelley Kuipers, Chaordix
People today have a real need to be part of something that's bigger than themselves, said Steve Jennings, NordicDEi, pointing to phenomenons like the ALS Ice Bucket Challenge. We've entered an age where we value connectivity, what's happening in our neighborhood, and what's happening with our favorite brands. Purpose and participation are huge motivators for consumers, so including them in the brand building process creates a powerful win-win."Traditional brand building is a wasteful system," says Guy White, Catalyx.  "Consider the potential of crowd intelligence." 
"Bitcoin is going to be the single biggest disruptor of the financial services—not the currency, but the blockchain technology behind it."
– Chris Skinner, Financial Services Club
Not one, but two speakers put blockchain technology on the watch list as THE catalyst that will herald revolutionary changes for finance, open data, and crowdsourcing. Bank customers visit their mobile banking app more times now than they visit an actual physical branch. "Finance has to move from physical to digital. The link to customers is now screen to screen, not face to face," Chris Skinner said. This will require a major restructuring of the banks' business model, architecture, and organizational structure. 
"Crowdfunding is not about financing."
 – Karsten Wenzlaff, German Crowdfunding Network 
Who invented the Apple watch?  The inventor of the Pebble watch did, according to Karsten Wenzlaff, founder of the German Crowdfunding Network. Why? "Crowdfunding is not about financing. It is about raising ideas very early to see what products will be bought tomorrow." Public perception of crowdfunding is expanding to recognize it not solely as a contributor to the financial ecosystem, but also playing a role in fostering better ideas, faster failure, more meritocracy, and less waste.
"Gender equality and equity is about access and empowerment."
  –  Babou Olengha-Aaby, Mums Mean Business
Female entrepreneurship is much more than a social issue. Now it is an economic one with a rising generation of female entrepreneurs going out and challenging the existing gender imbalance of business. Innovative crowdfunding platforms like Mums Mean Business help provide the access and empowerment to bring up a new generation of female entrepreneurs. 
"If it's free—if you can't see the price tag, you're probably the PRODUCT."
  – Steve Jennings, NordicDEi
Steve Jennings delivered a powerful speech on activating open data for social good, and being fully aware of the risks we take when sharing data online. If you are not prepared to quit social networks or stop sharing your data online (and let's face it, most of us aren't), you should be fully aware that in exchange for the free use of online services, your data is likely being harvested as the product. The new battleground for privacy and data is now trust, and on a larger scale, democratizing access to open data so it can be used not just for profit but for social impact.
"We've only discovered a fraction of the platforms that one might create." 
  – Daan Weddepohl, Peerby
This is only the beginning. The digitization of existing systems is not enough; entirely new systems, business models and platforms will arise from the crowd-driven era. Tomas Diaz of FabLab Barcelona reminded us that the phenomenon of the at-home 3D printer is only the first seed: "Imagine when every city has it's own full-fledged 3D fabrication center." Many speakers also echoed the feeling that social media has only just laid the groundwork for what is yet to come:
"Crowdsourcing is going to leverage the crowd social media has put in place for us." – Shelley Kuipers, Chaordix
"Mass collaboration is becoming second nature. We are more connected now than at any other time in human history. Social media is the tip of the iceberg, and where we're going next is collaboration—in business and organizations." – Nick Wright, Crowdicity
What were your favorite quotes or insights from the conference? Share them in the comments below!