The day was an exciting, high energy whirlwind of delegates hearing from top US and international thought-leaders operating in the crowdsourcing and various crowd economy sectors about their latest visions and endeavors.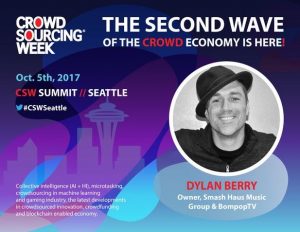 It included Dylan Berry, the LA-based music producer, composer, radio host, entertainment entrepreneur and owner of SmashHaus Music Group, who took us through how his new initiative Creator.Direct is going to disrupt the way that media companies currently rely on middlemen to source music. Creator.Direct will be an interface between the media companies that seek music for their content and the writers of original material who were previously never in the running because they did not have the right contacts. It will launch soon, providing financial benefits to both the music users and the music creators.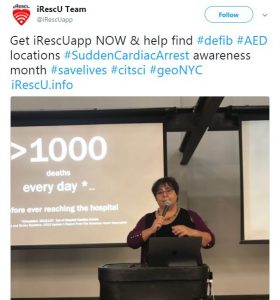 In the medtech sector, Nadine Levick, Founder & CEO of iRescU, is determined to use crowdsourcing techniques to reduce the number of deaths caused by sudden cardiac arrest. Each single minute's delay before medical treatment is given reduces recovery rates by 10%, so an ambulance arriving late or people at the scene not knowing where to locate a nearby AED defibrillator is crucial.
The average US survival rate has not risen beyond 8% in the past 30 years. iRescU has completed proof of concept and is in the final stages of development to provide a solution. Its app will provide bystanders with life-saving CPR techniques and online access to crowdsourced defibrillator locations provided by the public.
Crowdsourcing initiatives such as iRescU contribute to our cities being smarter places to live, work and enjoy life. "The Crowdsourced City" was a panel discussion moderated by Neal Gorenflo of Shareable, "an award-winning nonprofit news, action and connection hub for the sharing transformation." The session touched on many issues, particularly how crowdsourcing democratizes civic authority spending decisions through wider public engagement than was ever possible before mass digital connectivity.
Meg Wade of Participatory Budgeting Project made several strong points, about the process not being new but that it can now be pursued much more effectively and efficiently.
Rachel Maxwell of Community Sourced Capital echoed these points and added that greater public participation made civic authorities more accountable for how public money is spent, creates more interest in the formulation of strategies such as how to attract business to an area, and promotes a greater sense of shared responsibility for local authority decisions and actions – a stronger community spirit.
The final panelist was Rob Israch, Chief Marketing Officer of Tipalti. Tipalti provides an automated payment system which reliably reduces the workload and failed payments when paying numerous suppliers in multiple overseas territories  It is therefore very applicable to any businesses who crowdsource international input and involvement. On the topic of a technology-driven resurgence of community spirit, Rob reminded us that businesses are a vital part of any community, and when a business based on a crowdsourcing model gets bad press it can erode trust in the whole crowdsourcing eco-system, thus weakening communities. It is therefore vital for crowdsourcing-based business to be seen to treat its suppliers, partners and freelancers with respect in order to play a full role in their respective communities.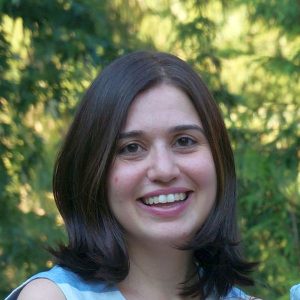 Ece Kamar is an Artificial Intelligence Researcher for Microsoft who explained in her presentation that despite best efforts so far, AI often requires human intervention to troubleshoot issues and help it perform to an acceptable standard. She gave examples of driverless cars that lack 'visibility' round blind corners and access banks of publicly crowdsourced information tell them what's ahead, and where machine learning photo recognition systems – created in many cases by Caucasians – have incorrectly concluded that the narrower eyes of people from east Asia were closed and thus deemed the images unacceptable.
The optimum solution of combining both artificial and human intelligence for the best outcomes was supported by Richard Swart, a recognized global authority on FinTech, Alternative Finance and Crowd Innovation, and Scientific Advisor at the CrowdSmart platform. He made some clear points in terms of why smart crowdfunding platforms driven by both proprietary machine and collective expert intelligence will reduce the high risks of angel and vc investments, democratize funding and provide entrepreneurs with access to capital without barriers due to subconscious bias or prejudice.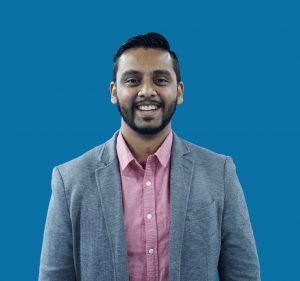 Open innovation is increasingly being used by companies of all sizes and in many industry sectors to source ideas from outside their own employees. Competitive gamification of the process through providing financial rewards – as well as peer group kudos, and perhaps global licensing agreements and intellectual property ownership – has encouraged more and more people to respond to challenges to innovate and create new breakthroughs in technology, education, supply chain and manufacturing to win prizes worth up to a million dollars. Sabih Khan is Vice President of Innovation at Sourcability, a company that has created a global community of innovators that its clients tap in to for ways to disrupt their industry sectors. He spoke on how his company is transforming to a crowd-based platform at https://crowdster.io/.
HeroX is another social network, based in Canada, where companies can build and engage with a global creative crowd. For the companies the key benefits are the opportunity to tap in to the collective genius of 3 billion people with no staff recruitment or management issues, and with payment based only on results. For individuals, HeroX provides a marketplace of projects that allow them to express their talents and passions, and achieve goals without having to navigate problems caused by gatekeepers, bias or discrimination. It's definitely what you know and not who you know.
HeroX's CEO Christian Cotichini told delegates be believes the real second wave of crowdsourcing will come when automation and gamification are taking place in more of the mainstream. The emphasis is on companies to put innovation under the spotlight: 52% of the fortune 500 companies in 2000 are no longer there. Companies that use HeroX include Boeing, NASA, NBC, Facebook and Coca-Cola.
Apologies to the other speakers and panelists we have been unable to include in this resume of the day, there really was such a lot going on.
Our next event will be CSW Arctic//Europe 2018 inside Sweden's Arctic Circle next March. Registration is already open with up to 50% savings for early bookers, we hope you can be there.