The focus of CSW Global 2019 was to unlock crowd participation breakthroughs and explore the use of open innovation techniques and practices becoming more mainstream – becoming the next big thing in our lives.
CSW's Founder and CEO Epi Ludvik kick-started Day One by providing a backdrop of the current state of the crowd eco-system and how the model is shaping future marketplaces, particularly around professional services.
Throughout the next two days our numerous international speakers gave delegates their interpretations of the theme based on their personal and professional insights.
Crowdsourcing at the broadest level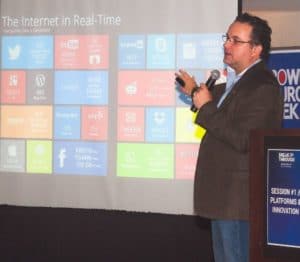 Christian Cotichini, founder and CEO of HeroX, told delegates that every business is in effect already crowdsourcing whether they realize it or not, simply because 'the crowd' is already evaluating their platform and their performance and sharing their views and observations through social media. What will ideally be an inevitable progression is that each platform and business will start to at least monitor what's being said about them, learn from it, and then begin trying to manage the process.
For individuals, he continued, crowdsourcing activities can complement employment. Let's think about that for a moment. Any of us can take up open innovation challenges of our choice for a variety of reasons: to gain new and wider experience; to demonstrate greater abilities to a current employer; to network with peers; build personal reputation; to enjoy experimenting outside of an established mindset or job description – to push back our own boundaries without jeopardizing a current employment status until we're confident to do so.
Though in bringing the two aspects of benefits for both businesses and individuals together and nearer to the mainstream, Sabih Khan of Surcle spoke about the challenges that platforms face to engage bigger audiences.
A global development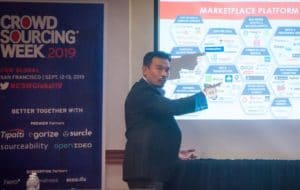 Darzy Norhalim shared with us the vision of, and the steps taken by the government of Malaysia in its digital transformation. There, crowdsourcing is regarded as a socio-economic system powered by digital platforms to prioritize sharing assets and resources between the government, business and communities over owning them.
In effect it reduces entry barriers to many areas of employment and inclusion: it democratizes the scope of personal opportunities. By 2030, he told delegates, 50% of Americans will be working as freelancers. Over 50% of U.S. Gen Zs in the workforce already are. The Malaysian Government wants to ensure its citizens are not excluded from this evolution of employment, with the risk of them otherwise becoming a burden on the state's finances.
Wide implications for commerce and governments
The knock-on effects of more and more people freelancing in the gig-economy will be widely felt across many services. For example, automated payment processes
provided by financial service providers such as Tipalti, who were represented on-stage by CMO Rob Israch, are already handling fast growing requirements for flexibility and reliability at a good value price for even international cross-border payments.
'Digital nomads' working remotely from anywhere they can access an internet connection will grow in number. The traditional banks and their relatively expensive systems developed in the analogue-age are being eclipsed by innovators prepared and able to apply new business models to new technology.
Governments are going to have to redefine classifications of work status and introduce tax and benefits systems that can bend with a greater degree of flexibility than the simplistic and often hard and fast distinction that commonly exists between an employee and the self-employed. In the UK, for example, the central government's department for employment recognizes three types of work status; its tax office recognizes just two.
Diversity
Wherever and whenever crowd-based economic activity becomes more prevalent, there are issues of diversity that need to be tackled. This was the topic of an all-women "Alpha Girls – Breakthroughs Powered by Women" panel session. Women tend to be in a discernible minority in the crowd economy, even though, as Sonja Perkins reminded us, "Companies operate better when there's diversity on the table."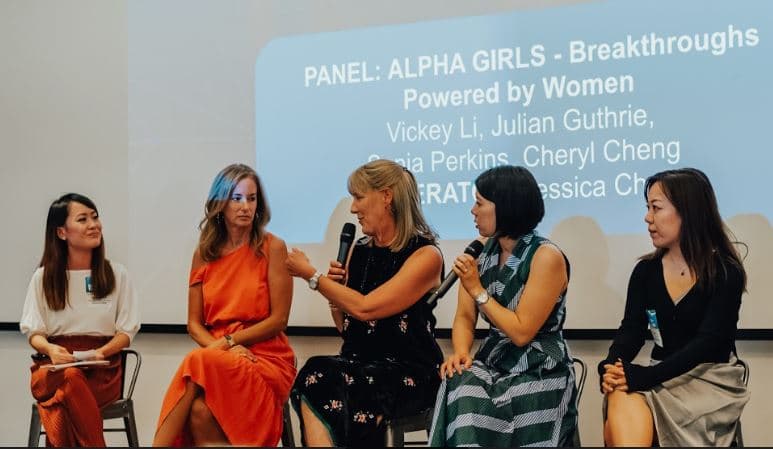 The main gender groups do tend to behave with different characteristics. Vickey Li said that when she had the idea of starting OnePiece Work and talked to people, men were very often dismissive whereas women were more supportive and always tried to come up with creative solutions.
Sonja Perkins, Managing Director of The Perkins Fund, echoed that men and women approach startups in different ways. A stumbling block is that most of the startup investors are male, and there is a stark disproportion between all-male and all-female startups getting successfully funded in early seed rounds. She wanted to see more female investors who would try to redress the balance.
Julian Guthrie, author of four books, including two national best sellers and a recent one called Alpha Girls, also wanted to see women being more supportive of each other as a group, and less divisive.
Cheryl Cheng, General Partner at BlueRun Ventures, reminded delegates that there's a lot of diversity imbalance that needs to be addressed, not just gender inequality.
New leadership qualities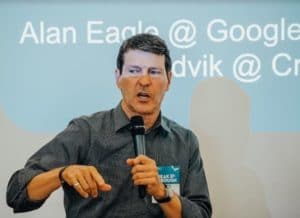 With more people working outside of traditional employment structures, personal coaching will become more important, explained Alan Eagle of Google. There will also be extra requirements of future business leaders to manage virtual teams. It won't be enough to just manage them in an office hierarchy sense, some coaching will be needed that also covers personal growth as well as business procedures and outputs.
Alan is author of The Trillion Dollar Coach about the investor Bill Campbell who provided mentoring as well as cash to a string of entrepreneurs behind startups that are now stellar global brands that between them are valued at over $1 trillion.
Some key learnings include a job title makes someone a manager, it requires a positive interaction with their people to make them a leader and mold together a cohesive team.
Data Ownership
This is becoming a topic of increasing concern. In a Day 2 session at the offices of Mozilla's offices, a privacy protection platform, Christian Cotichini of HeroX supported the view that people should be aware of what data about them is up for sale on a "surveillance capital" marketplace, so that each individual can authorize what purposes it could be used for and to even compensate us for its use.
Nathaniel Gates, CEO of Alegion, pointed out that data we freely handed over years ago is now being harvested and subjected repeatedly to more recently evolved technologies, which includes more advanced AI and predictive analyses.
Sharing experiences and inspiration
We were very proud that two of our speakers chose CSW Global 2019 to launch new products.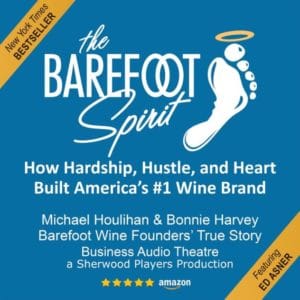 Co-founders of Barefoot Wines, Michael Houlihan and Bonnie Harvey, have released an audio version of their best seller, The Barefoot Spirit, How Hardship, Hustle, and Heart, Built America's #1 Wine Brand. Though this isn't a regular audio book. It has been dramatized and is presented as a radio play, a piece of radio theater. The dramatization engages listeners through requiring them to imagine scenarios, which makes the content more personal and more memorable. We expect to see some "me-too's" before long.
Benita Matofska and photographer Sophie Sheinwald  launched their Generation Share book (shown in the main image). It is a collection of profiles of "changepreneurs" who have prioritized addressing social issues above maximizing profit. In all the examples, commercial success only follows social and environmental wins. 
Thanks go to……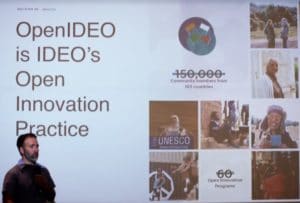 This could easily have been an epic list of Oscar-acceptance-speech proportions. In particular, though, we'd like to thank Jason Rissman, MD of OpenIDEO, for hosting the majority of Day 2 of the conference. Jason also took part in several sessions and began Day 2 with a walk through of the history of OpenIDEO, a platform that aims to resolve challenges through better design solutions and its focus on open innovation and co-creation.
Apologies to everyone else who took part who we have not been able to mention. You know who you are, and so do we. Thank you.