The final day of the week-long CSW Europe 2016 conference in Brussels finished with a final innovation as two outstanding young delegates hosted the event on-stage.
Earlier in 2016 Crowdsourcing Week launched its Young Achiever Programme to find 27 outstanding crowdsourcing exponents under 27 years old. There were three goals:
To recognize and nurture new talent and ideas
To ensure promising young leaders are able to attend CSW conferences, no matter their financial ability
Forge a global network and support ecosystem for upcoming thought leadership in the crowd economy
Eligible candidates had to be:
a young leader wanting to learn more about crowdsourcing, crowdfunding, and open innovation, 27 years old or younger,
live in Europe, and can benefit from attending but can't afford a pass – ie student, non-profit or startup?
taking new ideas to action in an innovative area (including but not limited to crowdsourcing, sharing economy, fintech, big data, smart cities) perhaps as a young professional, researcher, entrepreneur or policy maker?
Two of the Young Achievers not only attended the Brussels conference but on the final day also hosted it on-stage. Rob Wilson from the UK (centre of main image) finished university this year with a First Class Honours degree in Business Team Entrepreneurship and is co-founder of CrowdReach, a crowdfunding advertising agency specialising in promoting products on Kickstarter and Indiegogo. CrowdReach takes a fee based only on the incremental funding they generate.
"It was an amazing week of learning, collaboration and networking," said Rob. "This was the first time I attended a Crowdsourcing Week event and it certainly won't be my last! From day one, I felt like I was part of a community of like-minded individuals from around the world. It was an eye-opener to see what's happening in the wider crowd economy and the impact it's having."
The second Young Achiever was Sebastian Males (left on main image), a 16 year old entrepreneur and an informatics high-school student in Timisoara, Romania. He was nominated by the head of Timisoara Startup Hub where Seb has created a crowdsourcing platform at Spartantasks.com to bring together people who seek help to complete tasks and other young people who want to make themselves useful to gain experience and perhaps open up work opportunities.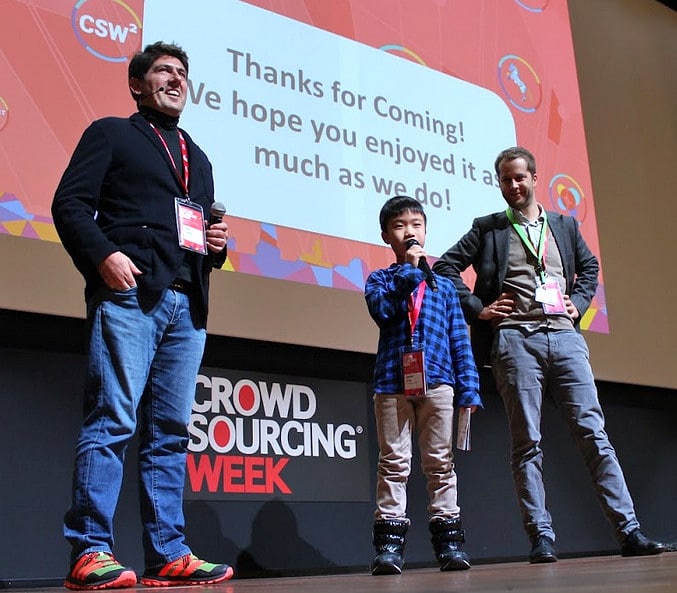 To emphasise the importance of the transformation of business to crowd economy models for Generation Z and those that will come later, 8 year old Justin Quek from Singapore read a thank you to the conference's main partners and supporters at the end of the day.
The CSW Europe 2016 presentations (video and slides) will be available here after a few weeks. All conference videos of the presentations and panel discussions have to be edited and uploaded, so that takes some time.
In the meantime, blogs recapping the opening evening event and the four full days of conference are here:
Day 1, opening by VP EU European Commission Energy Union; Day 2, Crowdsourcing, Co-creation and Crowd Innovation; Day 3, Smart Cities and Big Data Technology; Day 4, Energy and Sustainability; Day 5, Future of Work, Education, Entrepreneurship.